Security You Can Trust
---
News
Fire Alarm Saves Lives in Lowell
April 17, 2019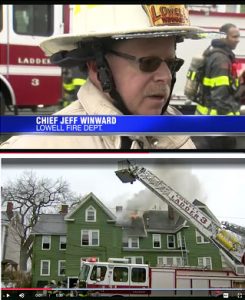 The sprawling three-story wood frame building on the corner of High and East Merrimack streets in Lowell, Massachusetts caught fire around 8:30 a.m. on February 24, 2019. Firefighters were on scene within minutes, as the fast-moving blaze escalated to four alarms.
When the first fire company arrived, they heard the alarm sounding within the building and quickly verified that all 38 residents were accounted for, having been warned by the alarm siren and fellow residents who pounded on doors to make sure everyone knew to evacuate.
"Fortunately, the fire alarm system was working and it goes to show you when the fire alarm system works, lives are saved," Lowell Fire Chief Jeffrey Winward told reporters at the scene.
See Chief Winward's full interview here on 7 News Boston:
https://whdh.com/news/2-firefighters-injured-battling-blaze-in-lowell/
Two firefighters from Chelmsford, who responded for mutual aid, sustained minor injuries fighting the fire and were treated at a local hospital.
Fire companies from Westford, Dracut, Tyngsboro, Billerica and Lawrence also responded to Lowell to assist at the scene and cover the rest of the city.
A preliminary investigation by the Lowell Fire Department found that the fire started within an exterior wall on the third floor, sparked by an electrical system failure.
The building's fire alarm system was installed by American Alarm's Weymouth division and is monitored by American Alarm's 24-7 Command Center in Arlington, Massachusetts.