Security You Can Trust
---
News
American Alarm Named Diabetes Health Champion
July 31, 2017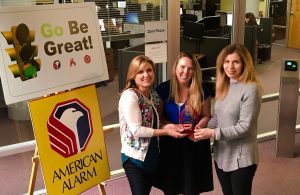 Arlington, Mass. —  The American Diabetes Association (ADA) has designated American Alarm and Communications a "Health Champion" in recognition of the company's multifaceted program to encourage healthy lifestyle choices by its employees, which in turn can help prevent the onset of diabetes.
The ADA's Associate Director of Development and Stewardship, Sandy Foster, presented the award to Shanade Hogan and Paola Contini, leaders of the company's wellness initiatives that earned the Health Champion designation.
"We are happy and proud to recognize American Alarm's commitment to their employees by providing the information and resources that research has shown can prevent type 2 diabetes," Foster said.
The ADA's Health Champion Designation is awarded to companies that make health and wellness a priority for their members and community groups. To become a Health Champion, organizations must meet healthy living criteria in three different areas: nutrition and weight management, physical activity, and organizational well-being.
"We were already doing some things to encourage health and wellness, so when I saw information about the ADA's program, I thought we should go for it," said Shanade Hogan, a marketing assistant and member of the Wellness Committee at American Alarm. "My grandmother passed away from complications of diabetes, so it's something very personal for me. I knew I wanted to do something to help people prevent this disease."
Hogan teamed up with Paola Contini in American Alarm's human resources department, who had been championing wellness initiatives at the company for several years. Together, with management's strong support, Hogan and Contini expanded efforts and focused on areas the ADA recommends as effective for diabetes prevention. Elements of the American Alarm program have included on-site yoga classes, team walking competitions, a 90-day "biggest loser" weight-loss competition and periodic on-site cooking demonstrations.
Since many of American Alarm's employees are technicians on the road, the team prepared a pocket guide with nutrition facts of meals sold by the top-ten fast food restaurants in New England to help the technicians make better choices. The company distributes a "wellness calendar" every month to remind people about the various events and competitions on the schedule, subsidizes fitness center memberships for employees, and on Wednesdays brings in fresh fruit for people to enjoy.  "Free fruit Wednesday is very popular," Contini said. "You should see the line."
Joseph Doyle, manager of human resources at American Alarm, said "Paola and Shanade have done a terrific job raising awareness for our wellness efforts at American Alarm.  The Health Champion award is just one example of the good work they have done, and as a company we look forward to continuing our wellness efforts for our employees."