Security You Can Trust
---
News
American Alarm Expands into Connecticut with the Acquisition of Monitor Controls Inc.
July 12, 2022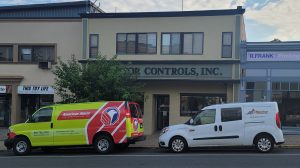 Arlington, MA — American Alarm and Communications today announced it has completed the acquisition of Monitor Controls, Inc. of Wallingford, CT, a high-quality security systems provider serving 1,800 customers, both residential and commercial, primarily in Connecticut.
This acquisition establishes American Alarm's first branch in Connecticut, growing its footprint as New England's Trusted Security Company, serving homeowners and businesses of all sizes and industry sectors.
"We look forward to building upon the strong foundation the Yusza family and their team created at Monitor Controls," said Wells Sampson, president and co-owner of American Alarm. "Working together, we will bring greater resources and a new generation of security services and technologies to customers across Connecticut."
Monitor Controls, Inc. was established in 1970 by John Yusza Jr. and his late wife Patricia. The company remained family-owned and operated by John and his children, John W. Yusza, III and Deborah J. Sokol until this acquisition. The former owners and all Monitor Controls employees remained on the team as American Alarm employees following the acquisition, working from the Wallingford branch.
"Our mission at Monitor Controls, Inc. has always been to do our best for our clients," John Yusza Jr., wrote in a letter to customers announcing the acquisition. "After considerable thought, we knew the time had come to add the many resources we needed to keep serving clients at the levels they deserve. That's why American Alarm is the right partner for our future."
Alarm system monitoring for Monitor Controls customer locations has been transferred to American Alarm's company-owned and operated UL listed and Five-Diamond Certified 24-7 Security Monitoring Center located in Arlington, Massachusetts. Tom Fales Jr., a regional operations manager who's led American Alarm's Central Massachusetts branch for several years, will now oversee day-to-day operations at Monitor Controls.
"Providing the highest levels of security and life-safety systems today requires a certain scale of operations, tempered by a personal focus on every customer," said Louis Sampson, chief financial officer, and co-owner at American Alarm. "As we grow strategically in New England, we know that as family business, our mission is to protect families and businesses in the communities we serve."
About American Alarm and Communications
American Alarm was established in 1971 by three engineers who met at MIT. It remains a local, family-owned business now led by the second generation of the Sampson family. American Alarm is a comprehensive security systems integration and monitoring firm providing intrusion, fire, access control, video surveillance, environmental hazard and other related systems and services. In addition to residential services, American Alarm has extensive experience providing security systems and services for financial institutions, cannabis companies, medical facilities, multi-building educational campuses and retail operations.
The American Alarm group of companies employs more than 300 people, based at seven locations in New England: Arlington, Auburn, Randolph and Weymouth, MA, Wallingford, CT, Warwick, RI, and Manchester, NH. American Alarm protects all classes of property, from single-family homes to businesses large and small, to major public and historic venues. The company owns and operates a 24-hour UL listed Five-Diamond Certified central station in Arlington that is solely dedicated to monitoring its customers' security and life-safety systems.