Security You Can Trust
---
News
American Alarm and Atlas Alarm Form Regional Security Powerhouse
January 12, 2017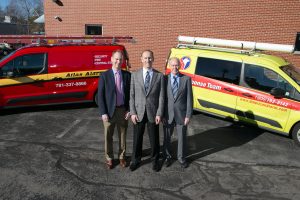 Arlington, Mass. — American Alarm and Communications today announces the acquisition of Atlas Alarm Corp. of Weymouth, Massachusetts, a major fire alarm and life-safety systems company in the greater Boston area. The combined company will operate as American Alarm with $40 million in annual revenue projected for 2017.
"This is an important milestone for both companies," said Wells Sampson, president of American Alarm. "We are bringing together two great teams with complementary technical capabilities and a shared commitment to business ethics and customer service."
Established in 1945 by Michael F. Rich, Atlas Alarm remained family owned and grew to 53 employees who today serve 3,000 customers in eastern Massachusetts, including residential, commercial, institutional and government facilities. "The time was right and American Alarm is the right partner for us," said Michael J. Rich, son of the founder and president of Atlas Alarm. "We've known the Sampson family for many years and we know that American Alarm is a quality company. By blending our expertise, our customers will benefit."
Atlas Alarm's largest concentration of customers is in Boston where it provides fire alarm and life-safety system installation, test, inspection and monitoring services for more than 600 accounts. The remainder of the Atlas customer base stretches through the communities on the south shore of Massachusetts. The Atlas Alarm headquarters on Washington Street in Weymouth will remain open and over time will be re-branded as an American Alarm branch.
"We are committed to the community of Weymouth and plan to invest in the location, updating systems and adding staff to accommodate growth," said Louis Sampson, chief financial officer at American Alarm. "The Atlas team remains in place, and together we look forward to providing comprehensive security services for all of our customers."
Founded in 1971 by three engineers who met at MIT, American Alarm is a family-owned business now led by the second generation of the Sampson family. The company is a comprehensive security systems integration and monitoring firm providing intrusion, fire, access control, video surveillance, environmental hazard and building automation systems. With the acquisition of Atlas, the American Alarm group of companies grows to 260 employees in six locations: Arlington, Auburn, Randolph and Weymouth, MA, Warwick, RI, and Manchester, NH. American Alarm systems protect all classes of property, from single-family homes to businesses large and small, to major public and historic venues across New England. Among the company's 28,000 customers are 465 bank branches, 329 public school buildings in 26 communities, 73 hospitals, 644 manufacturing companies (many high-tech and biotech firms) 436 government buildings and approximately 14,000 homes.
"Today we have 100 licensed systems technicians on the road serving customers in New England," Wells Sampson said. "We invest in people, and actually over-staff by industry standards, because we are serious about security and want the talent on board in our monitoring center and in the field to respond quickly to customer needs."
Atlas Alarm is the second acquisition American Alarm has completed in the past six months. In September 2016 the company acquired Electralarm Security Systems which served 500 residential and commercial customers in the greater Abington, MA area. These two acquisitions in southeastern Massachusetts solidify American Alarm's presence throughout the greater Boston region, with operations north, west, and south of the city, in addition to the headquarters and 24-hour Command Center in Arlington.