Winter Home Maintenance Checklist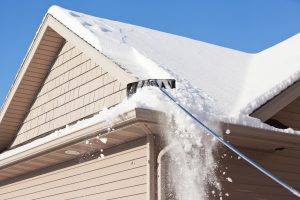 Winter brings a need for quality home maintenance. From frozen pipes to slippery walkways, snow-burdened trees to home fires, there are many things that can go wrong in winter. However, with a good checklist you can easily stay ahead of any damages or safety hazards.
Keep this list of indoor and outdoor maintenance tasks in mind throughout the winter season and set aside time each week to tackle some of these potential problem areas. You'll thank yourself as you sail through winter and into spring without any mishaps.
Indoor Winter Maintenance
Check and service your fireplace or chimney
Confined fires – such as those in a flue or chimney – account for 87% of annual residential heating-related fires. This is usually due to a buildup of debris. If you plan to use your fireplace this winter, first have it inspected and cleaned by a professional.
Check and replace dead batteries in detectors and alarms
Home fire alarm systems must be maintained in order to continue to protect you. 25% of fire fatalities in homes with smoke detectors occur due to dead batteries in the devices. Ensure that if you are using battery operated equipment the batteries are replaced regularly and test the system consistently to see that it is working properly. In addition, include your carbon monoxide detection system in your inspections when you go to test your fire alarm system.
Prevent frozen pipes
Frozen water in pipes can cause the pipes to burst. Prevent frozen pipes through the use of insulation, which you can buy at your local hardware store and wrap around the pipes yourself. It is also important to keep your home's temperature to no less than 55 degrees to reduce the risk of frozen internal pipes. If you plan to be away for multiple days at a time, remember to set your thermostat to a warm enough temperature and open cabinet doors with pipes inside. A professionally monitored low temp sensor is also a good idea if you plan to be away for any period of time.
Seal off unwanted openings
Check around the windows and doorways of your house for cracked or leaking areas and seal them off with caulk or weather-stripping. You can also take this as an opportunity to re-do any previously caulked or weather-stripped areas that have started to break down. This will save you money on heat, as warm air will be less likely to escape.
Test your sump pump
Your sump pump helps you keep your basement dry. It is often the last defender against flooding and condensation buildup. Check to see if it's working properly by pouring a couple gallons of water into the pit. If the pump turns on, you're good to go.
Outdoor Winter Maintenance
Inspect, repair, and clean your roof
Check your roof for broken or missing shingles and have them replaced immediately. Clear off any debris that has accumulated to stop damaging ice dams from forming near the bottom of your roof. Lastly, look for and fix any broken seals around your chimney or windows to stop moisture from entering your home.
Clear and clean gutters
Accumulated debris in your gutters can lead to drainage problems. Clogged gutters can overflow, break, and cause roof damage. Clear the gutters and check them regularly to ensure that no snow or water is backed up. Give them a final rinse with the hose when you're done to make sure they're completely clear.
Inspect and clear railings, steps, walkways, and driveways
Winter is the slip-and-fall season. Avoid an accident on your driveway, walkway, or outdoor steps by repairing and broken or jagged concrete, sanding and/or salting the walking paths, and regular shoveling or snow blowing. If you have railings, ensure that those are anchored properly into the ground. 
Keep and eye on trees after snowfall
Big snowfalls can overburden tree limbs, which may cause them to break and fall onto your property. Shake or brush away large amounts of snowfall from as many trees on your property as you can. If you have a video surveillance system in place, check to see if the camera is obstructed by snow and clear that away, too. If a tree limb does fall, have it cleared away immediately.
NEXT STEPS:
Contact us today to learn more about wintertime safety.
Stay up to date on security topics such as home alarm systems, business security systems, video surveillance systems, IP video networks, remote video monitoring, fire alarm systems, and fire alarm inspections.
https://www.americanalarm.com/wp-content/uploads/2021/02/iStock-475197095.jpg
1414
2121
zac
https://www.americanalarm.com/wp-content/uploads/2022/12/American-Alarm_logo_1Xr.png
zac
2021-02-12 16:33:25
2021-02-12 16:33:25
Winter Home Maintenance Checklist