What to Teach Your Kids and Teens About Good Home Security (That Won't Scare Them)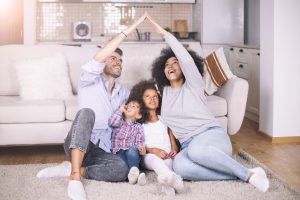 The majority of break-ins happen during the summer – the time when children are free from school and often home alone. While there are many things you can do to reduce your risk of a burglary, it is also important to teach your kids good home security practices to further protect them from potential harm. 
Teaching both your younger children and teens about home safety can empower them, but you want to make sure you share the right information in the right way. 
Here are 6 essential ways you can teach your kids about home security without scaring them. Implement these in your home to help all the members of your family to be safer and more secure even when left alone.
Let your children know they're safe
Explaining to your child that there are things they need to do to stay safe at home might scare them. So, first and foremost, ensure your children that they are already safe and secure. 
Tell them that you are going to teach them some important things, but that they are not in immediate danger. Remove any tone or tenor from the conversation that suggests that they have any reason to be afraid and take a light but clear approach instead. 
Teach your children how to use the home security alarm system
If you have a home security alarm system installed, show your kids how to use it if they are old enough to learn. This will instill confidence in their ability to protect themselves and be more "grown up."
Create clear rules – with reminders
Your family should have specific rules that every child understands for everyday safety. Post these rules in the home and have regular check-ins to make sure the rules are remembered and followed. Some examples of good safety rules to put in place are:
Don't give out your address unless mom or dad says it's okay

Don't leave the house if you're there alone

Keep all the doors locked at all times when home alone or with your siblings

Don't post your 'home alone' status to social media

Don't lend your key to anyone for any reason unless specifically told to do so by mom or dad
What other safety and security rules for your kids make sense to have in your home?
Teach teens how to supervise younger children
If you have older and younger children, have a special conversation with your older children about how they can take care of the younger ones when you aren't at home. This added sense of responsibility is helpful to their development and will also ensure that the younger children are protected at all times. 
Have home emergency plans in place
This one is good for the whole family to learn. Have a family meeting to specifically discuss what to do in case of an emergency. Go over fire safety, how to make an emergency call, and where the first aid kit and emergency kits are in the home. Run through a drill of what to do in case of a fire, earthquake, or other disaster. You can even make a "quiz" game out of important information to ensure that your kids have the info down.
NEXT STEPS:
Contact us today to learn more about home safety for parents, kids, and families.
Stay up to date on security topics such as home alarm systems, business security systems, video surveillance systems, IP video networks, remote video monitoring, fire alarm systems, and fire alarm inspections.
https://www.americanalarm.com/wp-content/uploads/2021/05/Family-Safety.jpg
1414
2121
zac
https://www.americanalarm.com/wp-content/uploads/2022/12/American-Alarm_logo_1Xr.png
zac
2021-05-06 15:09:10
2021-05-06 15:09:10
What to Teach Your Kids and Teens About Good Home Security (That Won't Scare Them)