Top 3 Fire Escape Safety Tips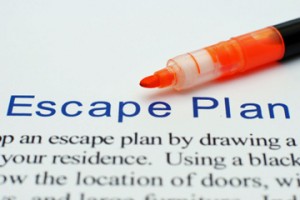 What's the most important thing to do as soon as you know that your home is on fire?
If you answered "evacuate immediately," you get a gold star – getting yourself and your loved ones out of a burning building is the number one priority in the event of a fire.
Despite this fact, most people don't stop to think about the best way to rapidly leave their homes – especially if the home fire alarm system goes off in the middle of the night when most of the family is likely to be sleeping. Knowing where your exits are – and the quickest way to get to them – are two of the most important fire safety tips that you, your spouse, your children, and your guests should be aware of.
In honor of National Fire Prevention week, October 7-13, 2012, here are three important tips to help you and your loved ones get out of harm's way as quickly as possible in the event of a fire.
1. Planning. Getting together as a family and discussing a plan for how to safely exit your home in the event of a fire is the best method to ensure everyone is on board from a safety perspective. Young children can be made to feel more included – and not nearly as frightened by the prospect of a fire – if the concept of escape is transformed into a game. Helping your kids move from their rooms to the designated exits as quickly as they can (by timing them) is a fun way to teach this basic fire safety step. You can also engage young ones by having them draw out a floor plan of your home and then trace the fastest way out.
2. Multiple Exits. The best way to escape a fire in your home might not be the front door that you regularly use to get in and out of the house. In fact, it might not be a door at all. It's important to have more than one way to get out of a burning house, especially if flames block one of the exits you had originally planned on using. If your ground-floor windows are low enough, then you can consider using one of them as a backup if the front door is blocked. If you're on the second floor (or higher) of an apartment building, then you will want to prioritize getting to the fire escape rather than the standard entrance, as you can't be sure of the fire situation below you.
3. Regrouping. Fire exits should lead to a safe area outside of your home – not an enclosed alley or backyard, if at all possible. It's important to be able to move as far as possible away from a burning house, as fires are unpredictable and can spread without warning. Once outside the home, ensure that your family members are all aware of a common, easy-to-reach landmark where they can go to meet up.
For more fire safety information please visit the National Fire Protection Association website.
https://www.americanalarm.com/wp-content/uploads/2022/12/American-Alarm_logo_1Xr.png
0
0
American Alarm Blogging Team
https://www.americanalarm.com/wp-content/uploads/2022/12/American-Alarm_logo_1Xr.png
American Alarm Blogging Team
2012-09-06 15:13:01
2012-09-06 15:13:01
Top 3 Fire Escape Safety Tips