Business Security Tips to Prevent Robbery at Your Place of Work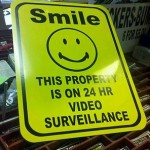 Robbery, as other crimes against business, is most often a crime of opportunity. But, according to the Boston Police Department, there are extra precautions you can take to keep the bad guys at bay.
To prevent a robbery:
Don't put any signs or posters on your front doors and windows to ensure you have good two-way visibility. That way your employees can see any people who are acting suspiciously outside and passers-by can see what's going on inside;
Be sure the outside of your business is well lit at night;
Use video surveillance and post a sign letting people know you use it. Use cameras and/or mirrors so you can observe your entire store;
Greet everyone who enters your business. Pay close attention to people pretending to be customers. These individuals will be loitering or glancing around your store while they pretend to shop or browse through magazines;
If you see something suspicious report it to the police. Your local police department may have knowledge of other robberies that are similar to what you're reporting;
Be sure to lock your side and back doors. If it's possible, ask your employees to use the main entrance;
Place markers at the entrance that employees can use to help determine the height of a robber as he leaves;
Make bank deposits as often as possible, but at least once a day.

The Boston Police Department also has some tips to keep you safe during a robbery:
Try to stay calm;
Don't make any sudden movements to upset the robber;
Do as exactly what the robber tells you to do. Don't resist;
Try to get a good look at the robber so that you can describe him to police later;
Notice the direction the robber traveled when he left your store;
If you can do it without putting yourself in danger, try and get a description of the robber's vehicle.

After the robbery:
Call the police immediately after the robbery, even if you've already activated your alarm;
Go outside when the police arrive so they'll know the robber has left and you're safe;
Don't touch anything that the robber may have touched so police can identify his fingerprints;
Ask any witnesses to stay or get their names and telephone numbers so police can contact them;
Don't tell anyone except the police how much money was taken.
Remember, no business is too small for a business security system. Today, a good business security system should include a business video surveillance system, which can send out digital alerts to automatically notify the authorities as soon as suspicious behavior is detected in or around your business. And that means police officers and private security guards are often able to catch those bad guys before they do any damage.
In the words of Ben Franklin, "An ounce of prevention is worth a pound of cure."
https://www.americanalarm.com/wp-content/uploads/2022/12/American-Alarm_logo_1Xr.png
0
0
American Alarm Blogging Team
https://www.americanalarm.com/wp-content/uploads/2022/12/American-Alarm_logo_1Xr.png
American Alarm Blogging Team
2012-06-01 08:55:41
2012-06-01 08:55:41
Business Security Tips to Prevent Robbery at Your Place of Work