Tips for Taking Down Holiday Decorations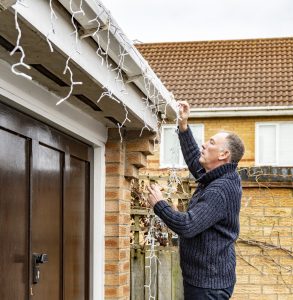 Taking down holiday decorations is simply not as fun as putting them up and enjoying them all throughout the season. It is also more dangerous. Your home's pathways may be covered in snow, ice, or rain water, making climbing a ladder hazardous. Your tree may have turned from lush and green to dry and brittle, creating a more serious fire hazard. You may wonder if it's okay not to take your usual care in organizing and cleaning your decorations this year.
Upwards of 17,000 people are treated in hospital rooms each year for holiday decoration related injuries. This means that it is exceptionally important to take care when removing and/or disposing of your decorations. To ensure that you are kept safe throughout the process, observe the following safety measures. It may take some extra time, energy, and concentration, but it will be well worth it when you are enjoying a nice evening in your decoration-free living room rather than in an emergency room.
Tips for Physical Safety
Trips, slips, and falls are a major concern during the winter months. Close to 10,000 people are treated annually for falls, with about 40% of this number coming by way of extension cord entanglement. This means you run a high risk of falling when removing those beautiful holiday lights from your home. Keep yourself safe from trips and falls as well as other personal safety concerns with these tips.
Avoid Overreaching. Carefully use a step stool or ladder for any hard-to-reach items.

If you are using a ladder, make sure it is on an even surface and that someone is holding it for you.

Watch for broken ornaments or decorations. Handle with extreme care anything that can potentially break and/or cut you. If something does break, dispose of it properly.

Don't overfill boxes as they can become dangerous to lift. Use multiple containers or boxes to keep them light and easy to carry.
Tips for Keeping Things Organized
While disorganized holiday decorations may not result in any serious injury, it can certainly cause undue stress. Take a little extra time to care for your decorations this year to keep next year's decorating process smooth and simple.
Make a list of things you need for next year and place it in a box you know you will open first come holiday time next year.

Keep a donation box handy. Any decorations you did not use or didn't like, consider donating or giving them to friends or family.

Put your decorations in containers that are labeled by type or location. Examples include: fireplace, tree decorations, kitchen decorations).

Wrap any lights or garlands around a piece of cardboard to prevent the strands from getting tangled.

Keep cloth decorations in a sealable bag to keep bugs away.

Recycle old wrapping paper as wrapping to protect decorations or use as packing peanuts for your next shipment.
Tips for Christmas Trees
Christmas trees and decorative lights result in 5 times more fatalities than any other kind of wintertime house fire. Christmas trees are at an even higher risk for fire at the end of the holiday season when most of them are very dry and therefore more likely to catch fire. Keep you and your family safe by following these Christmas tree safety tips.
Check your city's policy for Christmas tree disposal.

Dead, dry trees are an extreme fire hazard. Only place your Christmas tree outside the night before it is picked up by your local disposal company.

Ensure that you have a proper

home fire alarm system

installed to alert you if your tree catches fire.

Consider more environmentally friendly ways to dispose of your Christmas tree. Some options include:

Recycle your tree. It can be turned to compost, mulch, or wood chips

Donate your tree. Several communities have programs where they create habitats for animals out of trees. Some zoos will take donations as well and use them for toys for the animals.

Put it in your backyard. Simply putting the tree in your backyard will allow it to naturally decompose. Small animals can use it for shelter during the winter.
NEXT STEPS:
Contact us today to learn more about post-holiday safety.
Stay up to date on security topics such as home alarm systems, business security systems, video surveillance systems, IP video networks, remote video monitoring, fire alarm systems, and fire alarm inspections.
https://www.americanalarm.com/wp-content/uploads/2021/01/iStock-1198025674.jpg
1752
1711
zac
https://www.americanalarm.com/wp-content/uploads/2022/12/American-Alarm_logo_1Xr.png
zac
2021-01-15 11:04:50
2021-01-15 11:04:50
Tips for Taking Down Holiday Decorations