Tips for Springtime Renovations
Renovations Coming this Spring? Don't Take Chances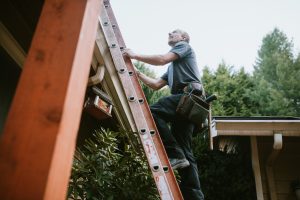 With the snow melted and weather warming, you might be thinking of renovations to your house and property. Consider a security system as part of the effort.
Why? In a project of any size there will be workmen moving in and out of your building/worksite; valuable building materials (such as copper and marble) will be left in plain sight; and so on. However, there are steps you can take to protect your worksite and belongings, and there are electronic systems designed to help you do just that.
Renovation Vulnerabilities to Address
Worksites are innately vulnerable and present opportunities to roving thieves. For instance, last October in Brookline, Massachusetts, police arrested a thief that had been pilfering copper and tools from a construction project. He was using nothing more high-tech than a duffel bag to make off with the goods.
Unattended vehicles and machinery are also at risk. In November, a bold thief stole a truck at a South Boston worksite and drove off. Police finally apprehended him after a wild chase.
What You Can Do During Renovation
Here are some ways to avoid the potential loss of thousands of dollars in materials, equipment, and time during seasonal renovations, courtesy of the Chicago Tribune and other sources:
Get reputable professionals for the job. This means doing due diligence and making sure the construction company and crew are reliable and honest. Consider getting a contractor with insurance and special licenses.

Illuminate the site. Don't skimp on lighting systems for the entire perimeter. If you don't want to leave the lights on all night, get electronic motion sensors installed to light up any open or exposed areas.

Enclose/secure the area. Need strong security as fast as possible? Quickly install fencing around the site, with gates or chains to secure the driveway.

Keep the site as neat as possible during and after work hours. It's easier to steal from a cluttered construction site.

Think

surveillance/security systems

. If you have protection solutions in place, make sure they are working properly and located most effectively. If you don't have a security system in place, now is a great time to think about rolling one out to protect your new investment. Don't hold back — consider deploying cutting-edge cameras, sensors, and

environmental monitoring

systems, with

mobile phone access

.
Without completed windows, doors, walls, etc., your future improved/renovated property is at special risk until the project is done. Treat it with at least the same level of care as you would the finished product.
NEXT STEPS:
https://www.americanalarm.com/wp-content/uploads/2019/04/iStock-979407722.jpg
1414
2121
American Alarm Blogging Team
https://www.americanalarm.com/wp-content/uploads/2022/12/American-Alarm_logo_1Xr.png
American Alarm Blogging Team
2019-04-17 09:40:42
2019-04-17 09:43:03
Tips for Springtime Renovations