These Yard Signs Keep You Safe and in Compliance with Massachusetts State Law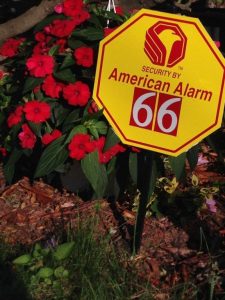 In the event of an emergency, every second matters. That's why Massachusetts law C. 148, S. 59. states that all homes and buildings must have a prominently displayed house number. Yet, many Massachusetts residents are not in compliance with this law. If your house number is not clearly visible, it may delay the arrival of help when you need it most. 
Additionally, burglars look for homes that are clearly unprotected, and tend to shy away from those with evident security. However, an emergency such as a break-in can be avoided entirely with the presence of a window sticker or yard sign indicating that the home or building is protected by an alarm system.
American Alarm has addressed both these issues with our emergency response locator sign campaign. The campaign's mission is to both help Massachusetts residents maintain compliance with law C. 148, S. 59 and deter potential home invaders.
All monitored customers in Massachusetts are eligible to receive an emergency response locator sign complete with reflective house number and "Security by American Alarm" message. With these signs displayed in your front yard, you will be better protected from home invasion and visible to emergency vehicles and police officers when you need them.
Currently, our team is out in Eastern Mass going door-to-door to ensure all our monitored customers get the opportunity to have an emergency response locator sign placed in their front yard. You can recognize us by our American Alarm apparel! 
Get Your Free Emergency Locator Yard Sign from American Alarm Today
If you haven't had a visit from our team, or if you're a monitored customer who lives outside the Eastern Mass area, contact us to receive your free yard sign today. You can also request a "Security by American Alarm" window sticker, which is another powerful deterrent for potential burglars.
NEXT STEPS:
Stay up to date on security topics such as home alarm systems, business security systems, video surveillance systems, IP video networks, remote video monitoring, fire alarm systems, and fire alarm inspections.
https://www.americanalarm.com/wp-content/uploads/2021/06/AACI-Emergency-Response-Locator.jpg
768
576
zac
https://www.americanalarm.com/wp-content/uploads/2022/12/American-Alarm_logo_1Xr.png
zac
2021-06-24 13:32:19
2021-06-24 16:14:51
These Yard Signs Keep You Safe and in Compliance with Massachusetts State Law