The Downside of DIY: Why You Shouldn't Self Monitor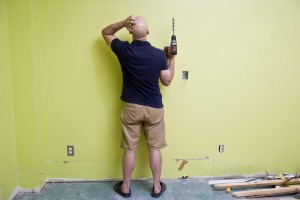 At first, a Do-It-Yourself (DIY) security system can seem like an efficient and inexpensive way to protect your home. Customers considering home security are intrigued by promises of easy installation and low or no monthly-monitoring fees.
However, after making their purchase, many have found DIY to be more difficult than they expected. While many consumers have technical skills, few have in-depth data networking expertise, knowledge in optics and lighting, or familiarity with local building and fire codes, as examples. Further, the unexpected time required to troubleshoot can be frustrating, thereby causing the project to be put on hold, sometimes indefinitely, leaving you and your family unprotected.  There are times when you simply need a professional to "get it done."  Remote telephone or chat-room support has its place.  But even at its best, it can't compare to a licensed seasoned professional onsite to help you.
In the case of some DIY systems, there is no support when things go wrong. Usually there are no field technicians to get you up and running, or to repair your system when things break.  There may be no customer support to call when your alarm sounds, and no monitoring service to alert the police. You really are doing it yourself.  What if you are in a business meeting when you receive a fire alarm or burglary signal?  What would you do next?  Would you receive the signal and process it in 20 seconds or less?
DIY Security systems tend to have standardized one-size-fits-all packages. You only get what comes in the package and this may not be what best fits your lifestyle. For example, if you have a lot of windows on your first floor, you are limited to the number of window sensors that come in the box. You can purchase more individually, but they could drive the cost of your inexpensive system up considerably and strain the capacity of the system.
Do you own pets? If so, this can be another problem with DIY security. The sensors you buy in a package are very sensitive. They can easily (and frequently) be set off by cats and dogs. Professional Security companies offer pet-immune motion sensors, and carefully place the devices so your furry friend can roam free without setting off the alarm.
Monitoring your own security cameras 24/7 on your computer, smart phone or tablet can slow down your bandwidth. To fix this problem, the DIY user will need to be technologically savvy enough to set up a new router. With a professionally installed system, you never have to worry about repairing it on your own.
Security systems require maintenance.  Some devices have consumable sensors with a fixed lifespan, such as Carbon Monoxide and Smoke Detectors.  Some devices need to be cleaned periodically, such as Smoke Detectors, which tend to accumulate construction dust and attract spiders.  Neglecting these items often leads to the proverbial "false alarm at 2:30 a.m."
DIY systems typically use wireless devices that require batteries which need to be changed periodically. This is one reason that wireless smoke detectors have lower reliability according to the National Fire Protection Association. Professional Security companies offer more reliable systems that use a combination of hardwired and wireless devices to assure your family has maximum protection.
Companies like American Alarm understand that every family is different. That is why we work closely with our customers to specify security systems personalized to their individual needs. We offer much more than security in a box. We can protect you from fire, flood and carbon monoxide. We also offer smart home devices, so that you can integrate your security system and control your lights, locks, and thermostats.  All of this can be controlled right from your cellphone!
With a professionally installed security system, you can rest easy knowing that everything is done right. Your system will be installed and maintained pro-actively by a licensed systems technician or electrician, and your property will be monitored 24/7 at our Command Center.  Join the many DIY'ers who end up calling the "pros" at 781-641-2000.
There is security in numbers, so don't monitor your security alone.
https://www.americanalarm.com/wp-content/uploads/2022/12/American-Alarm_logo_1Xr.png
0
0
American Alarm Blogging Team
https://www.americanalarm.com/wp-content/uploads/2022/12/American-Alarm_logo_1Xr.png
American Alarm Blogging Team
2015-11-05 10:42:18
2015-11-05 10:42:18
The Downside of DIY: Why You Shouldn't Self Monitor