Thanksgiving Cooking Fire Safety Tips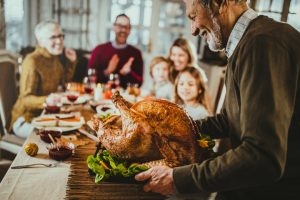 There are 2.3 times more residential fires reported on Thanksgiving Day than on any other day in the United States. These fires account for over $26 million in property loss each year and are predominantly caused by cooking. Around 1,400 home cooking fires are reported to U.S. fire departments each year on Thanksgiving, which is more than triple the daily average of cooking-related fires. 
To have a safe and enjoyable holiday this year, consider the following cooking safety tips.
Unattended Cooking
This is the leading cause of cooking fires on Thanksgiving. It is important to keep an eye on the stove and oven to avoid overheating, boilovers, excess grease, and other hazardous occurrences that can lead to fires. Children and pets also pose a risk and you should keep them away from the stove and out of the kitchen whenever possible. 
Turkey Frying
The U.S. Fire Administration cautions Americans against the use of turkey fryers, citing their dangerous nature, even when used as directed. If you must use a turkey fryer: 
Do so outside, never indoors

Keep the fryer at least 10 feet away from the home

Do not fry a partially frozen turkey, as this can cause the oil to splatter

Do not overfill

Keep children and pets away from the area

Always use thermostat controls to avoid overheating

Only use oil recommended by the manufacturer, as different oils have different ignition temperatures

Turn off the gas supply if you see the oil start to smoke
Fire Alarms and Smoke Detectors
60% of residential fire deaths occur in homes without functioning smoke detectors. Residents who want to stay safe this holiday season should make sure that their home is equipped with smoke alarms, or that their current home fire alarm system works properly. A monitored fire alarm system adds another layer of protection if you are unable to call the fire depertment yourself.
With these Thanksgiving cooking safety tips in mind, residents can enjoy a happy Thanksgiving, free of cooking fires.
NEXT STEPS:
Stay up to date on security topics such as home alarm systems, business security systems, video surveillance systems, IP video networks, remote video monitoring, fire alarm systems, and fire alarm inspections.
https://www.americanalarm.com/wp-content/uploads/2021/11/Thanksgiving-Cooking.jpg
480
720
zac
https://www.americanalarm.com/wp-content/uploads/2022/12/American-Alarm_logo_1Xr.png
zac
2021-11-18 13:37:44
2021-11-18 13:37:44
Thanksgiving Cooking Fire Safety Tips