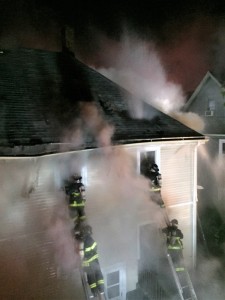 As college students move in to new apartments this week, now is a good time for them to check and make sure they have working fire alarms.
We all were tragically reminded of the importance of this early Wednesday morning, when a four-alarm fire destroyed an apartment building on Myrick Street in Allston, Mass., a community popular with college students. After it took about five-and-a-half hours to put the blaze out 11 college students and young professionals who lived in the building were displaced .
Fire investigators said it could have been much worse because the two-and-a-half story house had inadequate smoke detectors and sprinkler protection, according to Boston Fire Commissioner Joe Finn. Damage to the building was estimated at around $1 million.
"We're very fortunate last night that we didn't have a loss of life," Finn told WBZ NewsRadio 1030. "I think the fact that the tenants who were on that third floor weren't home is probably the reason why, because I think if they were home, they never would have made it out."
Fire inspectors think the fire started in a rear bathroom, but they were still trying determine the cause. The fire commissioner said investigators found several issues with the house.
0
0
American Alarm Blogging Team
https://www.americanalarm.com/wp-content/uploads/2022/12/American-Alarm_logo_1Xr.png
American Alarm Blogging Team
2016-09-01 14:08:53
2017-03-21 14:08:17
September Is College Campus Fire Safety Month