Stay Protected During COVID-19 Crisis
Maintain Your Alarm/Safety Services During COVID-19 Crisis
First, we wish all safety for you and yours through the COVID-19 crisis.
It's also worth remembering that though many of us are working from home and practicing social distancing, we still need to be reasonably cautious. This means maintaining our security and environmental surveillance and monitoring systems.
Sobering Statistics
Despite our relative isolation at home, we're still vulnerable to theft or vandalism. That's because despite good times or bad, criminals never really rest. In fact, contrary to what we might expect, crime hasn't universally decreased: in some areas, it's shown an uptick.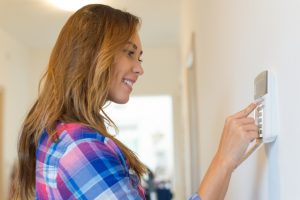 In New York City, general crime incidents spiked by 12 percent in the first three months of 2020 (as compared to the prior year) according to a news story. Burglaries rose by 22 percent, or 533 more cases. Possibly this is a mark of desperation, but whatever the cause, it's a fact that robberies generally do rise in such crises, as local police and FBI statistics will likely bear out.
At Risk in New England
Locally, we still face criminal threats. According to a recent WGBH interview with crime experts, Boston business locations that are currently shuttered are potential targets to thieves — as are unused vehicles.
And as always, we should be sensitive to environmental dangers in the home, such as fires or gases. Such disasters can strike at any time. While a thief is likely only to take a few items, a fire can take everything from us. It requires special detection solutions to sense the presence of dangerous gases and the like.
Considering Professional Protection
Burglaries will remain a threat. Most people in New England are working from home, with children temporarily furloughed from school. This increases the odds that a burglar will strike a house that is fully occupied. It is better to detect or deter a burglar with sensors and surveillance systems before they can enter your home.
If you already have a system installed, it might be useful to think about the value it delivers. For instance:
On a daily basis, it costs about the same to procure a cup of coffee as it does to pay for home protection

An emergency button connected to a 24/7 monitoring center, manned by professionals, can summon first responders much more quickly than a regular 911 cell call (given today's high emergency calling volumes).

If you're a business owner, and your entire workforce is working from home, it delivers protection to your building and the assets in it.
In short, surveillance and monitoring solutions and related services are still a great way to have peace of mind. And stress is something we can all do without right now.
https://www.americanalarm.com/wp-content/uploads/2020/04/iStock-1181955417.jpg
483
724
zac
https://www.americanalarm.com/wp-content/uploads/2022/12/American-Alarm_logo_1Xr.png
zac
2020-04-16 10:28:31
2020-04-16 14:44:12
Stay Protected During COVID-19 Crisis