Smart Technology Can Help Keep Senior Citizens Safe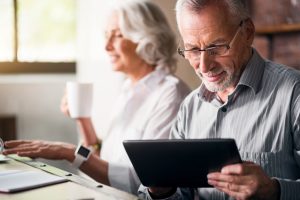 Nearly 90% of seniors want to remain in their own homes as they age because they're healthier, wealthier, and they expect to work into their 70s or even longer.
As people get older, they still face issues such as failing eyesight, reduced mobility and declining strength.
Now, though, smart home technologies, such as sensors, voice activation, GPS, Bluetooth, and cellular connectivity, enable older adults to stay in their homes longer and continue to lead independent lives.
Here are some examples of smart home technologies to help you "age in place":
House-cleaning robots, such as iRobot, can clean as well as mop floors automatically and they can be controlled via smartphones.
The self-learning stove alarm learns a person's cooking habits within a house by picking up data. This device sends alerts before toxic gases are released/a fire starts helping to prevent potential disasters.
A smart medication pillbox can detect if you forgot to take your pills or you take the wrong ones. Smart sensors in each pill drawer remind you when it's time for a dose. The pillbox also alerts you when it's time for a refill. Additionally, the pillbox can notify your family members if you take the wrong dose.
A smart doorbell allows you to see who's at the door without opening it via your smartphone or tablet. This device contains an embedded video camera, two-way audio, motion sensors, an app to interact with the system and, of course, the doorbell. When someone rings the doorbell, the device notifies your mobile device and quickly establishes a video feed from your front door. This device lets you speak, record or take a snapshot of who's outside and view it on your tablet or smartphone.
Smart lighting throughout the home helps seniors with vision or mobility issues, decreasing the risk of a fall turning on the lights when someone enters a room.
A smart home security system can integrate controls for most electrical and digital systems. These integrated smart home controls allow you to control your system from just about any location via the Internet and mobile devices. These systems can be programmed to automatically lock doors and alert caregivers remotely if problems arise.
Smart thermostats can be activated by remote control or voice command, meaning you won't have to get up to change the temperature settings. Family members can also monitor this device remotely to ensure that the temperature in your home is at a comfortable and safe level.
Installing some or all of these smart home devices will allow you to live safely, securely, and independently in your own home as well as provide your loved ones with peace of mind.
NEXT STEPS:
https://www.americanalarm.com/wp-content/uploads/2022/12/American-Alarm_logo_1Xr.png
0
0
American Alarm Blogging Team
https://www.americanalarm.com/wp-content/uploads/2022/12/American-Alarm_logo_1Xr.png
American Alarm Blogging Team
2017-05-10 10:30:28
2022-12-22 12:49:22
Smart Technology Can Help Keep Senior Citizens Safe