Security for Seniors: Maintain Independence and Peace of Mind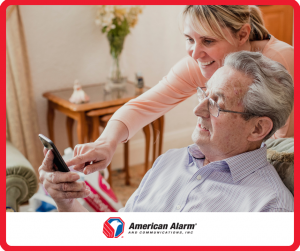 Security and peace of mind for parents and other seniors is priceless. Accident and injury to elders frequently goes unreported, and many are unaware of the risks to their senior family members and friends.
Seniors want to spend their days comfortably and without worry or fear of the unexpected — not just from unwanted intruders or burglars, but from fires, falls and other types of injuries to which the elderly are especially prone. Fortunately, there are affordable and viable ways to protect seniors 24/7, via surveillance/monitoring and alarm systems.
Living by Yourself Doesn't Need to Mean Being Alone
According to the Institute on Aging, people are living longer and living alone much more frequently. This makes it even more important that elderly people take precautions against various dangers, including medical emergencies and accidents such as falls.
Falls alone are a particularly serious threat. According to the Centers for Disease Control and Disease Prevention:
  

Millions of those 65 and over (one in four seniors) fall each year

  

Less than 50 percent ever tell their physicians about these falls

  

A person who falls once doubles his or her chances of a subsequent fall
Today's technology can remove the risk of having a medical emergency alone. Seniors can arm themselves with a medical alert system that can be worn around the neck to contact local emergency services with the press of a button.
Last year in Shrewsbury, Massachusetts, one mother fell in a residential bathtub as she was trying to exit it, triggering a medical emergency alarm that allowed first responders to get to her in a timely manner and bring her to the hospital.
Flexible, In-House Senior Protection, 24/7
To go a step further, consider deploying an electronic alarm and surveillance/monitoring system in the house. If there is a suspicious noise in the middle of the night, residents can check the perimeter of the property from their smartphone without getting out of bed.
There is also the risk of heaters or stoves causing fires, which can result in burns or smoke inhalation. With 24/7 fire alarm monitoring, homeowners can feel safe knowing their house is protected even when they are asleep or away from home.  
When thinking about your parent's or even your own safety, you can't put a price on peace of mind.
Next Steps
https://www.americanalarm.com/wp-content/uploads/2022/12/American-Alarm_logo_1Xr.png
0
0
American Alarm Blogging Team
https://www.americanalarm.com/wp-content/uploads/2022/12/American-Alarm_logo_1Xr.png
American Alarm Blogging Team
2018-09-12 15:41:41
2018-09-12 15:41:41
Security for Seniors: Maintain Independence and Peace of Mind