Self-Checkout: Most Commonly Stolen Items
Gaps Plague Retail Self-Checkout Security
We know that self-supporting retail technology — with its sensors, devices and big data capabilities — offers us many conveniences. However, basic self-checkout platforms don't always work well for retailers, here in New England, and beyond.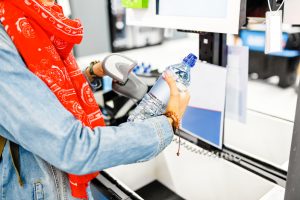 In fact, the Springfield, Massachusetts-based chain of stores Big Y World Class Markets decided it had to remove its self- checkout aisles, according to a Worcester Telegram.com article. In large part, this move was because of the higher incidence of thefts. The article notes that shoplifting is five times more likely at a self-checkout terminal than at a typical human-manned cash register.
Self-Checkout Temptation
Professional thieves often see these systems as offering easy pickings. Even normally honest shoppers may (unconsciously or not) take more than they scan and pay for at the point of sale. In one survey of opioid-motivated thieves, 72 percent of respondents acknowledged they'd encountered anti-theft technology, but that it didn't really deter them.  
In a blog titled "What's in the Mind of a Retail Shoplifter?" retail analyst Tony D'Onofrio discusses statistics around self-checkout thefts. In a survey of 24 offenders by the Loss Prevention Research Council (LPRC):
Seven said it was very easy to steal via self-checkout

Another seven claimed it was "somewhat" easy

Just one believed it to be very difficult
What's at Risk?
And just so that we understand what's typically most at risk (according to insurance industry BusinessInsuranceQuotes website) the most shoplifted items are:
Meat

Razors

Baby formula

Cosmetics

Alcohol

Laptops

Over-the-counter drugs

Smartphones

Clothing
Even low-cost items add up, given the average "low-level" shoplifter tends to filch some $1,800 worth of items before he or she is caught, says the National Association for Shoplifting Prevention. And overall, the cost of U.S.-based shoplifting totals some $13 billion annually, according to one estimate.
Fighting Back
But there are ways to fight self-checkout theft — some of these tips are from an article in the National Retail Federation's Stores magazine, and other sources cited above. They include:
Having employees regularly check receipts at store exits and match them with the goods

Installing a robust anti-theft alarm system (sometimes using RFID)

Implementing Public View Monitors (PVMs)

 Rolling out artificial intelligence-based systems that do such things as review video footage to spot likely theft activity and alerting employees via mobile phones

 Reducing scanning errors
With these measures, you can begin to make self-checkout pay for your retail operation. 
NEXT STEPS:
https://www.americanalarm.com/wp-content/uploads/2019/08/iStock-1145665298.jpg
1414
2121
American Alarm Blogging Team
https://www.americanalarm.com/wp-content/uploads/2022/12/American-Alarm_logo_1Xr.png
American Alarm Blogging Team
2019-08-07 13:49:39
2019-08-19 09:58:01
Self-Checkout: Most Commonly Stolen Items