School Vandalism is Costly: Security Systems Can Help
School is back in session, which means school vandalism unfortunately tends to rise accordingly. Surveillance and security solutions can help school administrators to deter or resolve such incidents.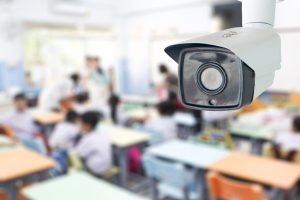 School-related vandalism — a type of crime involving any damage or defacement of school property — is a real problem in Massachusetts and beyond. According to the Vandalism at School website, the annual price tag to remedy this kind of crime runs at around $8 billion nationally.
Vandalism has a ripple effect. It's expensive to remedy, with the costs so high they can drive up property taxes. Additionally, a parent of a minor child could be liable for fines or restitution for such acts of vandalism, says a FindLaw article.
Broken Windows, Graffiti and Slurs 
Last June, in Hanson, Massachusetts, someone armed with concrete smashed several windows at an elementary school, according to Boston 25 news — causing about $5,000 in damage. 
That same month, someone struck a middle school in Wilmington, Massachusetts, says a Patch article. This event left enough "damage and destruction" to leave the superintendent "alarmed."
Then there are the graffiti vandals. In May 2018, someone spread anti-gay and anti-Semitic graffiti on the Arlington, Massachusetts, high school building, according to a WBUR article. The piece noted that the increased frequency of these sorts of acts in Massachusetts schools was spurring school administrators to explore new prevention methods.
Areas of Vandal Vulnerability
There are some predictable patterns in vandalism. Research shared by the nonprofit Center for Problem-Oriented Policing demonstrates there are particular areas that vandals use as access points and targets, including:
Partly hidden spots that can accommodate student groups (who may scrawl graffiti, harm trees and plants, and smash windows)

Alcoves, such as those caused by stairways near walls, sunken entrances, and delivery docks

Main entrances lacking grills or gates (for after hours security), and secondary entrances with removable outside door hardware

Unsecured windows/skylights

Big, smooth and lightly colored walls — which tend to be targets of graffiti

Rooftops that would-be vandals can access from the ground, trees, or even other rooftops
One way to address vandalism is to set up a surveillance and intruder detection system. The system can rely on high-resolution cameras aimed primarily at vulnerable areas such as those listed above.
For more effective security, couple video systems with 24/7 monitoring services offered by a proven security vendor, preferably with a state-of-the-art command center manned by top professionals. This way, you can rest easy knowing your school is safe, even when class is out.
NEXT STEPS:
https://www.americanalarm.com/wp-content/uploads/2022/12/American-Alarm_logo_1Xr.png
0
0
American Alarm Blogging Team
https://www.americanalarm.com/wp-content/uploads/2022/12/American-Alarm_logo_1Xr.png
American Alarm Blogging Team
2019-09-11 14:05:57
2019-09-16 12:12:09
School Vandalism is Costly: Security Systems Can Help