Preparing for Ice Storms Safety Tips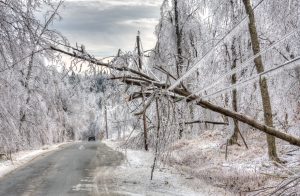 Ice storms are notorious in New England. The famous ice storm that swept New England in December of 2008, for example, left over a million people without power and cost 2.5-3.7 billion dollars in damage. Major storms like these have a devastating impact on residents and businesses, even minor ice storms can cause serious problems. Hypothermia and other illnesses, hazardous road conditions, and freezing pipes are just some of the ways an ice storm can disrupt your daily life. 
However, with a little awareness and preparation, you can reduce the likelihood of an accident or emergency in your home or business. The following guidelines will help to get you ready and keep you prepared for an impending ice storm.

Keep Your Pipes from Freezing
Normally your outdoor, unheated pipes are at the greatest risk for freezing. However, a major storm could leave you without power or heat for an extended period of time. In these situations, all your pipes are at risk. 
To ensure your pipes – both indoor and outdoor – do not freeze, consider purchasing insulation by the foot and wrapping them. You can also keep a little water dripping from faucets to prevent water from sitting stagnant in pipes. In addition, opening the cabinet doors that cover your pipes so warmer air can circulate around them will help to keep your indoor pipes from freezing. 
You can also install a monitored low temperature sensor that will let you know if the temperature in your home or business falls below freezing when you are not home.
Stay Off Dangerous Roads
Freezing temperatures and ice storms cause slick, unsafe roads. Black ice can easily form in these conditions, which is very hard to see. This is a bigger issue on backroads or less traveled roads. If you must travel in icy conditions, stick to plowed, salted or sanded roads that are well traveled.
Know the Signs of Hypothermia and Frostbite
Frostbite causes a loss of feeling and/or color in your face, hands, and feet. Numbness or very white/gray skin are the main signs of frostbite. If you or a loved one experiences frostbite, place the affected area under warm (not cold or hot) water and allow the body to heat back to its normal temperature. Do not try to overheat the body with a hot shower or bath or a heating pad, as this can cause an adverse reaction.
Hypothermia refers to excessively low body temperature. If the body temperature drops below 95 degrees seek medical attention immediately. Shivering, confusion, drowsiness, and slurred speech are all signs of hypothermia. If you or someone near to you experiences hypothermia, it is imperative to warm the head and chest first. Dress in multiple layers including a hat and socks and wrap up in several blankets until the body temperature regulates itself.
Purchase a Generator
Loss of power means loss of heat. This can be fatal during lengthy ice storms as temperatures can drop well below freezing. Purchase a generator to have handy in situations like this. However, operating a generator indoors can cause carbon monoxide poisoning so only operate generators outdoors. It is also a good idea to have a carbon monoxide detector installed in your home just in case.
Pay Attention to Emergency Alerts
Sign up to receive notifications from the Emergency Alert System as well as your local emergency network. This will keep you informed of immediate or impending changes. Consider purchasing an emergency radio you can use to receive messages from the Emergency Alert System in case of a power outage.
Keep an Emergency Kit Packed
You should always have an emergency kit in both your home and in each vehicle. Items to include are non-perishable food, water, blankets, masks, flashlight and/or headlamp, and an emergency radio. Within your kit you can also include a medical kit with all the essentials in case of cuts, scrapes, or burns.
NEXT STEPS:
Contact us today to learn more about ice storm preparation.
Stay up to date on security topics such as home alarm systems, business security systems, video surveillance systems, IP video networks, remote video monitoring, fire alarm systems, and fire alarm inspections.
https://www.americanalarm.com/wp-content/uploads/2021/01/iStock-157509718-scaled.jpg
1671
2560
zac
https://www.americanalarm.com/wp-content/uploads/2022/12/American-Alarm_logo_1Xr.png
zac
2021-01-29 09:50:21
2021-01-29 10:10:08
Preparing for Ice Storms Safety Tips