Returning to School: Security Tips for Parents
Depending on your state, county, city or town, your child may be returning soon to the classroom. With the threat of COVID-19 remaining here in New England, you'll want to take the best approach to ensure your child's safety in and outside the school or playground.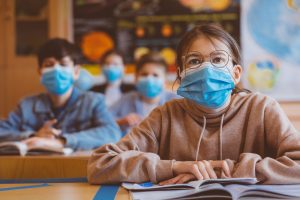 The challenges for successful reopening and education are considerable, as a Mayo Clinic article on the subject notes. It states, "As schools reopen, they must balance the educational, social and emotional needs of their students along with the health and safety of students and staff in the midst of the evolving COVID-19 pandemic."
School Uncertainties in New England
New England state guidance varies. In Massachusetts, for instance, each town and city fall into one of four risk categories, based on COVID-19 prevalence, as a recent Boston Globe story notes. Based on these ratings, officials will decide about their back to school policies. In Rhode Island, as a Providence Journal article notes, all but three school systems will likely soon reopen, based on COVID-19 test results in the communities the schools are located in.  
As of this moment, there are open questions about the mix of in-school and remote learning. Most likely, parents won't know exactly what the various New England statewide/school district policies will be until they are actually enacted. No matter what, we all want to take the right precautions for our children's safety.
Returning Home After School 
Since many school systems are doing some sort of hybrid program, a lot of kids will be returning home while their parents are still at work. Video doorbells, smartphone apps and residential access control systems allow parents to monitor their alarm system remotely and see when their kids get home.
Cloud-based access control systems offer the added ability to open locks with their smartphone app, so kids with phones can get into the house without needing to remember their keys. Homeowners can also allow temporary guest users to access the house via their phones (like babysitters, dogwalkers, etc).
This is a stressful time, but preparing your children for a safe education will give you some extra peace of mind.
NEXT STEPS:
Stay up to date on security topics such as home alarm systems, business security systems, video surveillance systems, IP video networks, remote video monitoring, fire alarm systems, and fire alarm inspection.
https://www.americanalarm.com/wp-content/uploads/2020/09/iStock-1226242778.jpg
836
1254
zac
https://www.americanalarm.com/wp-content/uploads/2022/12/American-Alarm_logo_1Xr.png
zac
2020-09-02 10:45:23
2020-09-02 11:04:41
Returning to School: Security Tips for Parents