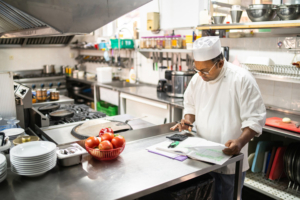 Restaurant managers and owners need to prioritize their security. This not only keeps the restaurant, customers, and employees safe, but it also helps protect the restaurant's future success. Security incidents can be costly, but with the proper measures, you can help prevent these incidents from occurring.
Threats include burglaries conducted after hours, employee thefts, and even thefts performed by existing customers. Here are some security tips that provide advice as to how you can keep your restaurant safe and secure:
Secure your cash
By far, the most at-risk areas of your restaurant are those that house cash. This goes for any cash registers, as well as safes, cabinets, etc. that might hold a larger cash supply. Establish internal control procedures, such as determining who will handle the cash and procedures for handling the cash, to discourage internal threats. 
An access control system can also help keep cash secure because it will only allow authorized staff to enter areas with large amounts of cash. Hiring a third-party service to transport your cash from the restaurant to the bank can also improve security.
Protect expensive items
Restaurants also need to find ways to project high-value items, such as wine, liquor, and expensive ingredients like caviar and truffle mushrooms. These items can be easily stolen while the restaurant is both open or closed. Here are some ideas:
Store high-value items in special rooms with access control enabled.

Secure the bar area by only letting authorized staff behind the bar itself.

Establish internal protocols for handling these high value items.

Minimize foot traffic in areas that contain high-value items.
IP video systems are also valuable in commercial settings as they can monitor employees, oversee quality control, and are helpful for loss prevention and protection as well.
Keep outdoor areas safe
If your restaurant has an outdoor space to maintain, you will want to keep this area safe and secure especially during the off hours. Items that are being stored outside are at risk for theft. Implementing these strategies can help:
Secure outdoor equipment, such as heat lamps, tables, and chairs, when the restaurant is closed to prevent theft in the off-hours.

Install security cameras in outdoor spaces to monitor activity and dissuade theft.

Keep outdoor spaces well-lit at all times, even when the restaurant is closed.

Contain the outdoor dining space behind a fence, complete with doors that require a key or have access control enabled for access.
Taking these security measures will better secure your restaurant while also keeping staff and customers safer, too. Speak to one of our security specialists to discover a strategy that will protect your restaurant and minimize or eliminate any potential threats.
NEXT STEPS:
Stay up to date on security topics such as home alarm systems, business security systems, video surveillance systems, IP video networks, remote video monitoring, fire alarm systems, and fire alarm inspections.
https://www.americanalarm.com/wp-content/uploads/2022/12/Restaurant.jpg
480
720
zac
https://www.americanalarm.com/wp-content/uploads/2022/12/American-Alarm_logo_1Xr.png
zac
2022-12-29 13:50:15
2022-12-29 13:50:15
Restaurant Security Tips