Protect Your Business During Fire Prevention Month
It's National Fire Prevention Month through October — and a great time to evaluate your fire alarm system. These can be a key part of a holistic approach to protect your business, employees and customers.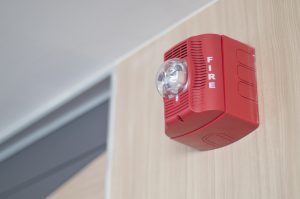 Fire, unfortunately, remains a major risk to business owners here in New England and beyond. When a fire strikes, it may completely ruin your office, factory or retail shop. And if the fire doesn't completely destroy your workplace, it can severely damage on-site gear and property. That can leave you unable to function properly for weeks or months — adding lost business to the price tag of the fire itself.
Fire Can Strike Anytime, Anywhere
One fast-moving fire striking a commercial rental building can impair or even ruin multiple businesses in hours or even minutes. Such a blaze struck downtown Natick, Massachusetts, last July, as a WBUR article explained.
The eight-alarm fire broke out at 7 South Main Street early one morning. The firefighters had to demolish the storefronts to get at the fire, and then turn over the rubble to contain all the "hot spots." The various tenants affected included a Chinese restaurant, a print shop, a Christian Science Reading Room, a pet groomer and a gift shop.
And in East Boston last March, a nine-alarm fire struck, destroying the headquarters of the New England Casket Co. on Bennington Street, says a WCVB article. The gutted building was a multimillion-dollar loss that threatened the company's survival.
What You Can Do
Luckily, there are a number of options available to protect your business. According to insurance company State Farm, such measures can include:
Doing a fire risk assessment on the business, based on relevant fire code books, with a visit from a local fire marshal

Install firefighting gear/systems on the premises, including a sprinkler system and fire extinguishers

Create a guide for employees to follow in case of fire, ensuring they call 911, safely exit the building, etc

For extra protection, you should also consider installing a

commercial fire detection system
Vendors of these solutions can also provide 24/7 monitoring services from a command center staffed with trained professionals. Additionally, the vendor can ensure the alarms are compliant with local fire codes, and oversee the maintenance and testing of the systems. That way, you can rest easier knowing you're protected from fire.
Next Steps
https://www.americanalarm.com/wp-content/uploads/2022/12/American-Alarm_logo_1Xr.png
0
0
American Alarm Blogging Team
https://www.americanalarm.com/wp-content/uploads/2022/12/American-Alarm_logo_1Xr.png
American Alarm Blogging Team
2019-10-09 09:09:14
2019-10-10 15:39:41
Protect Your Business During Fire Prevention Month