Professional vs DIY Security Cameras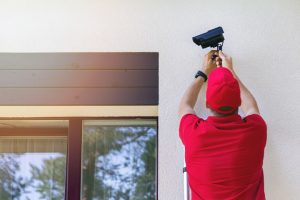 It's been shown that the presence of a security camera or alarm system on your property will deter up to 60% of burglars. If you want to install a security system, you have the option of going the DIY home security route or hiring a professional security company to install your system for you. 
There are upsides and downsides to each strategy—the important thing is to choose the option that best aligns with your safety goals. Let's take a look at the benefits and drawbacks of each option.
Benefits of DIY Home Security Systems
Installation on Your Time: When you install a DIY security system you have 100% control over when and how it goes in. This can be a benefit, as it allows you to work entirely on your own schedule, but it can also be a drawback. It is essential to know how to properly install your devices so that they provide you with the protection you need.
Custom Options: When you choose DIY security, you aren't fixed to a set number (or fixed types) of devices. You choose as many or as few layers of security as you'd like and add or subtract devices as you see fit.
Drawbacks of DIY Security Systems
No Professional Monitoring: One major drawback to DIY systems is that no one has your back if something goes wrong. Some devices offer a monitoring service, but you will likely need to pay a subscription fee to access those services.
Easy to Disable: Burglars look for easy access to homes they think contain valuable items. A DIY system will register as easier to evade, disarm, or hack into than a professional system, but it will also alert the potential home invader that you have something inside worth protecting. In this way, your attempt to give yourself more security may actually make you a target.
Benefits of Professional Home Security Systems
Customer Service: Many DIY systems have little to nothing in the way of customer service. However, a professional security company has excellent customer service baked into its foundation. This is imperative when you run into trouble, have questions, or need to make changes.
Drawbacks of Professional Home Security Systems
Requires Professional Installation: Admittedly, this is not a downside for some. Professional installation comes at a price, but it also means that you don't have to lift a finger to receive high-powered security in your home.
May Not Integrate with Your Current Security Devices: Some professional security products may not integrate well with DIY security solutions. If your current security solution isn't working for you replacing the DIY devices that you do enjoy might be a reality.
DIY security may be right for some. However, a professional security system provides multi-layered coverage and monitoring capabilities that a DIY system simply does not. Such as integrated and monitored fire and carbon monixide detection. If you want the most powerful security available, you may find that a professional security solution complete with 24/7 monitoring, video surveillance, and backup communications will serve you better than a DIY solution.
NEXT STEPS:
https://www.americanalarm.com/wp-content/uploads/2021/09/Home-Security-Installation.jpg
480
720
zac
https://www.americanalarm.com/wp-content/uploads/2022/12/American-Alarm_logo_1Xr.png
zac
2021-09-30 11:09:44
2021-09-30 11:09:44
Professional vs DIY Security Cameras