Online Christmas Shopping Security for Safer Holiday Gifting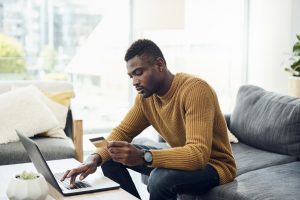 Many of us will be gifting from afar this year by purchasing and shipping our gifts online. The uptick in online shopping thanks to the pandemic means that there are more opportunities for fraud, ID theft, phishing, and other harmful scams. 
With holiday fraud attempts already growing each year, it's important to know how to keep yourself safe. Avoid these bad actors by employing some key online shopping security tips this year.
Use a VPN
The majority of Americans are concerned with how their data is being collected and used online. Virtual Private Networks (VPNs) have become more common as security worries have increased. 
VPNs ensure that your browsing and purchasing remains private and confidential. This is especially important when using public WiFi, which makes you vulnerable to an attack from hackers. Consider installing a VPN on all your devices to eliminate the possibility of your sensitive information being intercepted.
Purchase from Companies Who Use Two-Factor Authentication
Two-factor authentication is an added layer of security that makes sure it is indeed you who are about to make a purchase. This type of security goes beyond a standard username and password. 
You may be asked to enter a code that is sent to you via email or phone. You may also be asked to answer added security questions, or to provide another piece of information before you are allowed to make a purchase. While the added step may seem cumbersome, you can shop with more confidence when using two-factor authentication than if you are only asked to provide a password or perhaps no identification at all.
Shop on Secure Sites Only
If you do not see "https" in the navigation bar you are not shopping on a secure site. Often the bar will show "not secure" if this is the case, but not always. When shopping online, always check for that "s" after "http" and also be on the lookout for the small closed lock icon. These are both indicators that the site you are on has done its due diligence and is protected. It is best to avoid shopping on sites without this security in place, as they may be phishing sites or simply sites that are more vulnerable to hacking.
Keep Your Home Secured
Your offline security is just as important as your online security if you want to keep your data truly protected. Install a quality home security system to keep intruders away from your devices and other valuables. Consider a video surveillance system as well. If you do happen to experience the theft of your computer or mobile device, you will have a better chance of catching the perpetrator if you have them on tape.
NEXT STEPS:
Contact us today to learn more about better security during the holidays.
Stay up to date on security topics such as home alarm systems, business security systems, video surveillance systems, IP video networks, remote video monitoring, fire alarm systems, and fire alarm inspections.
https://www.americanalarm.com/wp-content/uploads/2020/12/iStock-1164339722.jpg
837
1254
zac
https://www.americanalarm.com/wp-content/uploads/2022/12/American-Alarm_logo_1Xr.png
zac
2020-12-02 13:43:53
2020-12-02 14:14:04
Online Christmas Shopping Security for Safer Holiday Gifting