Keep Your Security Cameras Free of Insects
Keep Spider Webs, Bugs or Insects From Security Cameras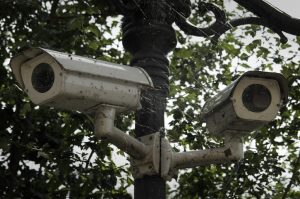 High resolution surveillance cameras are key tools in protecting our New England homes and businesses from thieves and intruders. However, as reliable and proven as these solutions are, they require maintenance — and that includes preventing the camera lenses from being obscured by such obstructions as spider webs or insect nests.
Spider and insect interference may be a bigger problem than you might realize, particularly for homeowners with exterior camera-based security systems. Spiders do in fact habitually spin webs across lenses, as this industry blogs notes. This can create blind spots in your surveillance system, in effect disabling it. 
High Tech Foiled by Bugs
Webs and insects can also trigger false alerts in motion-activated cameras. As the blog says, you, the homeowner, "may wake the morning after installing your cameras to find hours of motion-activated footage of bugs flying, crawling, or otherwise creeping in front of the sensor."
The reason for all this unwanted activity is simple: the infrared light attracts insects and bugs. These pull in spiders, who spin webs to catch them. In either case, your unwanted guests can cause you aggravation from false alarms or actually take your surveillance offline.
Protecting Your Line of Vision
Fortunately, there are ways you can proactively fend off this potential threat to your system's operation, as some experts point out. Consider some of these low-cost fixes:
Lubricate the exterior of the camera case. Teflon spray, silicon or Vaseline will make the camera too slippery for webs (don't forget to cover the lens with a paper towel before you apply this fix).

Using a rubber band, fix

a dryer sheet

to the camera's exterior

—

the sheet's powerful scent will deter insects.

If possible, disable the camera's LED lights, as these are prone to attracting bugs.

Attach a flea collar to the camera

—

or spray bug repellent around its protective housing. If you go with a pesticide, please remember you may be exposing pets or children to a toxic chemical. Also, you'll need to regularly respray the camera.

Do a weekly camera sweep: this includes the camera's exterior, housing, enclosures, cover and shield.

You can also consider coating the camera in vinegar, lavender or eucalyptus (results will vary depending on the insect life near you).

Place a computer fan on the camera: it will prevent spiders from spinning webs, and will repel bugs.
Consider Professional Help
All these are common-sense ways to keep your lenses bug and web free. However, for even greater protection, you can secure the services of a security vendor who also provides you with monitoring services 24/7.
Such a partner will have professionals who will detect the presence of a web or insect activity and alert you immediately to the obstruction. Or the partner will dispatch a technician to actually remove the webs and assist you in protecting the lenses in the future. Either way, it will give you an extra layer of support against the encroaches of mother nature.
NEXT STEPS:
Stay up to date on security topics such as home alarm systems, business security systems, video surveillance systems, IP video networks, remote video monitoring, fire alarm systems, and fire alarm inspection.
https://www.americanalarm.com/wp-content/uploads/2020/09/iStock-517926037.jpg
482
725
zac
https://www.americanalarm.com/wp-content/uploads/2022/12/American-Alarm_logo_1Xr.png
zac
2020-09-17 12:58:39
2020-10-15 11:45:24
Keep Your Security Cameras Free of Insects