Keep Thanksgiving Safe: Follow These Tips
With Halloween behind us, the holiday season has officially begun. It's now time to think about home and travel safety in the midst of this season's hustle and bustle.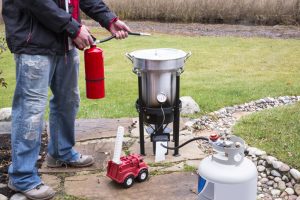 Getting together with family and friends can be hectic, and the potential for accidents skyrockets with children running around, large dinners prepared and the fireplace roaring. As this blog has previously noted, Thanksgiving Day is the most common day for kitchen fires. Cooking accidents are the leading cause (77 percent) of Thanksgiving house fires in the United States.
That's not even to mention the risks of traveling. Between heavy traffic, weather and other factors, Thanksgiving travel demands special precautions, as this safety checklist from a law office notes. Unfortunately, alcohol-related accidents caused 800 deaths between 2012 and 2016 during Thanksgiving alone.
Thanksgiving Risks
In recent years in New England, there have been too many holiday disasters. In 2015, Boston magazine even published an article demonstrating where holiday fire were most likely to occur around Boston and Cambridge. On a daily average, the cities' departments responded to 11 cooking fires, but for Thanksgiving, the average range spiked to 30-49. The author concluded: "Thanksgiving really is the worst day for cooking fires all year."
Just last Thanksgiving, a house fire broke out in Lynn, Massachusetts, as the holiday meal was wrapping. The flames tore through the triple decker as firefighters tried to cope with the cold and weather. The water the firemen sprayed turned to ice, and the house was left a ruin, displacing 17 family members.
Making Holidays Safer
Fortunately, there is plenty we can do to make travel and dining/hosting as safe as possible for Thanksgiving and other holidays. If we're hosting a party and cooking, we should consider safety holistically, according to one expert medical writer. This includes everything from fire safety to food preparation and sanitation.
 Some helpful tips:
Have an easily reached fire extinguisher in the kitchen

Take extra precautions when using a turkey fryer — they can be very dangerous

Watch what clothing we wear — loose, flowing clothing can more easily catch fire
If traveling:
Secure your home thoroughly, including an alarm and surveillance system

Inspect the car for any potential risks (brakes, tires, etc)

Plan your trip in advance, and be prepared in case of bad weather or special congestion
Following these tips can reduce the risk to ourselves and our guests and loved ones. Everyone's safety is something we can always be thankful for.
Next Steps
https://www.americanalarm.com/wp-content/uploads/2022/12/American-Alarm_logo_1Xr.png
0
0
American Alarm Blogging Team
https://www.americanalarm.com/wp-content/uploads/2022/12/American-Alarm_logo_1Xr.png
American Alarm Blogging Team
2019-11-20 08:56:14
2019-11-20 08:56:14
Keep Thanksgiving Safe: Follow These Tips