How to Winterize Your Pool at the End of the Season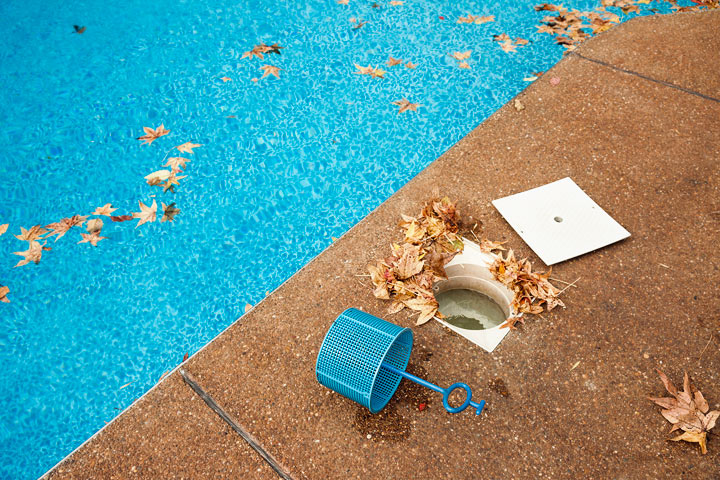 As summer comes to an end and you put away all the season's toys and equipment, you shouldn't forget to prep your pool for the colder months when it goes unused. Failing to winterize your pool can spell trouble for next season. Here is important information about why you need to winterize your pool.

Choose the right time
According to Pool Calculator, most experts recommend waiting until the temperature drops below 65 degrees Fahrenheit (18 degrees Celsius) to winterize your pool. This ensures that issues such as algae growth don't become a problem, although it can't be completely stopped until the temperature drops to 40 degrees Fahrenheit or 4 degrees Celsius.
You want to reduce the growth as much as possible for when you do reopen your pool. Waiting until the temperature drops below 50 degrees Fahrenheit (10 degrees Celsius) is ideal. Waiting until the temperature drops is preferable because the chemicals added to a winterized pool may not last until it's reopened. Winterizing chemicals are consumed more quickly in warmer water.
Deep clean
Removing all pool toys, equipment, and other accessories is a good start, but winterizing your pool should entail a deep cleaning as well. Remove all debris such as silt, leaves, and dirt. A pool vacuum will clean the bottom of the pool, while a skimmer will help clean the surface. Also, brush the sides and floor of the pool.
Deep cleaning the pool will ensure a balanced water chemistry to prevent algae and mold from growing. After you've deep cleaned your pool, cover it to keep leaves and other debris from falling in again. Now is also a good time to clean the pool filter.
Protect against algae
As mentioned, algae can be a problem when it comes to your pool and you should do everything possible to minimize its effects when you open up your pool in the spring. Algae naturally exists in soil and plants, but wind also blows spores into pool water.
Use an algaecide to protect your pool from algae growth during the off-season. Let the pump of your pool run for at least 24 hours so that the product is fully circulated to protect the entire pool area.
Adjust the water level
When you winterize a pool, you want to drain it, but not completely. The water level should come approximately 1" beneath the skimmer. Once you've lowered the water level in your pool, you can use a pool cover. If you use a seasonal pool cover, be sure to reference it for possible alternate suggestions for water level.
Some may mention that you should blow out the pool pipes, plug the skimmer, and then raise the water level to a level that will support the weight of snow, if applicable. It's important to remember that as water freezes, it can expand by approximately 9%, which can result in water becoming trapped in confined spaces such as pool pipes, skimmers, and pool equipment if you haven't adjusted the water level.
Ensure your pool gate alarm is functional
Even if your pool is closed for swimming, it can still pose a hazard to children if they wander into the pool area unattended. The pool cover may look like a fun flat surface for playing, but it may not support their weight, leading to injury and property damage.
Integrating a pool gate alarm with your home security system ensures you're alerted any time someone enters the pool area.
Winterizing your pool will keep it in good condition during the off-season, saving you money in the long term as your pool won't experience costly damage.
NEXT STEPS:
https://www.americanalarm.com/wp-content/uploads/2023/09/pool_prep.jpg
480
720
alarmadmin
https://www.americanalarm.com/wp-content/uploads/2022/12/American-Alarm_logo_1Xr.png
alarmadmin
2023-09-14 08:27:31
2023-09-12 13:54:07
How to Winterize Your Pool at the End of the Season