How to Stay Safe on the Road During Winter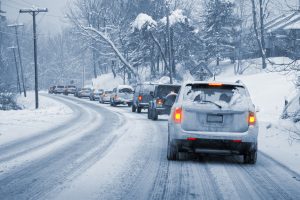 Over 150,000 car accidents occur in the US every year thanks to icy road conditions. This leads to nearly 2,000 fatalities. For New Englanders, winter driving can be even more dangerous. Snow and ice on the roads are commonplace for those in the northeast, which means drivers need to take extra precautions to stay safe on the roads during the winter. 
Protect yourself during wintertime travel with these driving tips for cold-weather road conditions. A little proactive effort goes a long way to ensure you and your loved ones make it to your destination safely and with ease.
Stay Home
The best way to stay safe during hazardous winter road conditions is not to drive in the first place. If the weather forecast predicts snow or ice on the roads, see if you can adjust your travel plans to allow you to stay at home. This can mean everything from ordering your groceries online to choosing to Zoom with friends and family instead of driving out to see them. This is an especially important tip this year, as choosing to stay home whenever possible will also likely slow the spread of the COVID virus.
Get Stocked
If you know you must travel – especially long-distance – stock your car with emergency supplies. Make sure you have tire chains, a spare tire, water, blankets, a flashlight, a way to charge your phone, snacks, and anything else that you think you'll need if you get stuck on the side of the road. Check your stock periodically to see if anything needs to be replaced.
Go Slow
It takes your car up to ten times longer to stop on an icy road than on dry ground. This means there's no such thing as driving too slow when dealing with winter road conditions. If you've lost visibility, or if the roads are snowy or icy, slow way down to accommodate. You may even choose to pull off the road until conditions improve, if there is a safe place to do so. 
Fuel Up
Always keep your gas tank at least half full during the winter months. You will need to fuel up more often, but you will also ensure that you're never out of gas on a long, desolate stretch of highway. This is also important if you are in an emergency situation and need to get to a family member quickly. You don't want the added stress of having your gas tank on empty when you're already dealing with dangerous travel conditions.
Don't Cruise
It's tempting during long road trips to hit the cruise control button, but try to resist. Cruise control disengages you from driving enough to slow down your reflexes which can be perilous on icy roads. It also gives you less control if you need to make a quick adjustment. If you're tempted to use cruise control in order to ease the tension on your legs and feet while driving long distances, choose instead to take more frequent stretching breaks. 
Get Maintenance
If your car is in need of any repairs or check-ups, get those done as soon as possible. Even if your car is in fine shape, it's a good idea to have it inspected just in case there's anything you missed. Do this early in the winter season, and you'll have much more confidence while driving in the snowy months.
NEXT STEPS:
Contact us today to learn more about holiday security.
Stay up to date on security topics such as home alarm systems, business security systems, video surveillance systems, IP video networks, remote video monitoring, fire alarm systems, and fire alarm inspections.
https://www.americanalarm.com/wp-content/uploads/2020/12/iStock-182492432.jpg
836
1254
zac
https://www.americanalarm.com/wp-content/uploads/2022/12/American-Alarm_logo_1Xr.png
zac
2020-12-17 10:06:00
2020-12-17 10:06:00
How to Stay Safe on the Road During Winter