How to Make the Most of Your Time at NECANN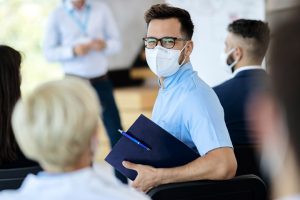 The New England Cannabis Convention (NECANN) takes place from March 18 – 20 at the Hynes Convention Center in Boston. This event will host an extensive collection of cannabis industry professionals. It will feature presentations on a vast range of industry topics relating to security, business growth, social equity, and more—events like this offer an unparalleled opportunity to learn and connect with industry experts. 
Attending a tradeshow can quickly become overwhelming with so much to see and experience. Here are our top tips to help you get the most out of your time at NECANN.
Create a strategy
Before you head off to NECANN, consider some of the challenges you're currently facing or aspects of the industry you'd like to learn more about. Peruse the event schedule, glance at the list of exhibitors, and make a list of talks you'd like to attend or businesses you'd like to connect with. There will be a lot to take in, but since you won't have time for everything, hone in on the areas that will make the biggest impact on your business.
Take advantage of breakout rooms and presentations
There's a lot to see on the floor at NECANN, but don't spend the whole time there. Take advantage of the different talks offered to gain a deeper understanding of topics relevant to your business. These seminars and workshops led by industry experts can open your eyes to ideas and processes you may never have thought of on your own. 
If possible, pop into breakout rooms with other audience members to discuss the topics in-depth. Not only are these a valuable learning experience, but they're also a great way to meet fellow industry professionals and forge connections. 
Make genuine connections
Tradeshows are a fantastic way to meet others in your industry. Whether you need a fellow business owner to mastermind with or wish to connect with businesses to work with in the future, building genuine connections should be your focus. Chat with people at booths or strike up conversations with others inside seminars. 
Bring plenty of business cards to make it easy to exchange contact information. Don't forget to follow up with folks you meet after you get home to reinforce the connection.  
NECANN is the biggest cannabis tradeshow in New England and a wonderful opportunity to connect with your peers. American Alarm has been a top cannabis security partner since 2015, and our team will be on the floor, ready to answer any questions you may have relating to security, CCC requirements, and more. We hope to see you there!
RELATED CONTENT:
NEXT STEPS:
Stay up to date on security topics such as home alarm systems, business security systems, video surveillance systems, IP video networks, remote video monitoring, fire alarm systems, and fire alarm inspection.
https://www.americanalarm.com/wp-content/uploads/2022/02/Person-at-convention.jpg
480
720
zac
https://www.americanalarm.com/wp-content/uploads/2022/12/American-Alarm_logo_1Xr.png
zac
2022-03-03 11:33:26
2022-03-03 14:31:45
How to Make the Most of Your Time at NECANN