How to Host a Safe Black Friday Event in Your Retail Store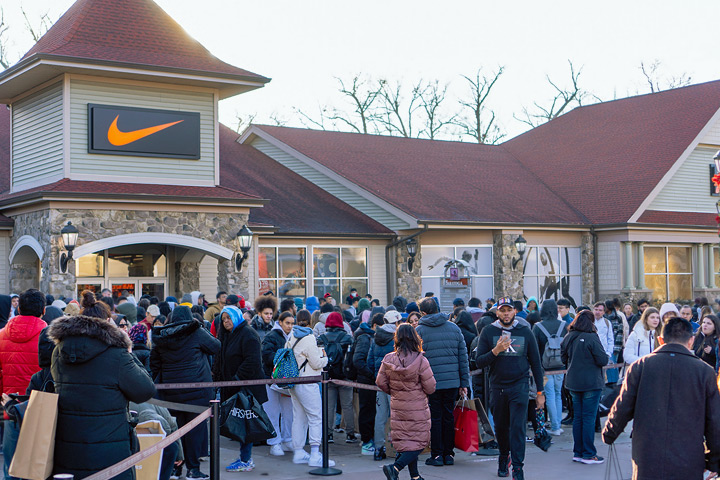 Black Friday draws large crowds of eager shoppers to retail stores seeking incredible deals and discounts. It kicks off the lucrative holiday shopping season, which, for many retailers, accounts for up to 20% of annual revenue. Black Friday also presents unique challenges, particularly in ensuring the safety of both customers and staff. Below, we'll explore essential tips for managing a Black Friday event in a retail setting safely. Strategies include staff training, crowd control, store layout optimization, security measures, communication, and emergency response planning.

Staff training and communication
Provide comprehensive training to your staff on safety procedures and emergency protocols before your Black Friday event. Conduct safety drills and scenarios to ensure they are well-prepared in an emergency.
Establish clear lines of communication among your staff. Develop a code or signal for emergencies, enabling quick responses to any issues that may arise during the event.
Crowd control
Implement effective crowd control measures to prevent overcrowding and chaos. Even if you don't expect a massive crowd, any abnormally large influx of customers may be overwhelming for staff. Use signage to direct traffic and organize lines. Barricades and stanchions may be helpful if you expect large numbers of shoppers. Ensure staff are aware of your store's maximum capacity and have them limit the number of customers inside if necessary.
Optimize your store layout
Rearrange your store layout to facilitate a smooth traffic flow, creating designated sale areas to avoid congestion. Make your most popular items easy for customers to find. There should be plenty of space around these items so multiple customers can access them at once– this should reduce lineups within your store.
Ensure that aisles and exits are clear and easily accessible. Designate specific entry and exit points to create a streamlined and efficient shopping experience.
Augment your security measures
Consider hiring extra security personnel to maintain a visible presence throughout your Black Friday sale. This will help deter theft and ensure help is on hand if a situation escalates.
Monitor your video surveillance cameras closely to ensure the safety of customers and staff. Have staff monitor entrances and exits closely, too. Have an alert system in place if anyone spots suspicious activity.
Communication and information
Keep customers informed about the event through announcements and advertisements. Schedule plenty of staff to be available to assist customers. This will reduce frustration and make the shopping experience easier and more efficient. Have staff wear a uniform or nametag to make them easy for customers to identify. Post signage throughout the store addressing common customer questions, including store hours, pricing, and return policies.
Have an emergency response plan
Create a comprehensive emergency response plan that addresses potential risks and hazards associated with a large retail event. Outline evacuation procedures and designate safe meeting points in case of emergencies. Ensure all staff members know the plan and their roles in an emergency.
For many retailers, Black Friday is an opportunity to boost sales and finish the year strong. Remember that safety is paramount during this event, and taking proactive measures to ensure the well-being of both staff and customers is crucial. Creating a safe and streamlined shopping experience will make it easier to win over customers and boost your bottom line.
NEXT STEPS:
https://www.americanalarm.com/wp-content/uploads/2023/11/black-friday-crowd.jpg
480
720
alarmadmin
https://www.americanalarm.com/wp-content/uploads/2022/12/American-Alarm_logo_1Xr.png
alarmadmin
2023-11-09 08:27:09
2023-11-02 13:40:35
How to Host a Safe Black Friday Event in Your Retail Store