How Monitoring Your Kids' Online Activity Mitigates Break-Ins
Online "casing" has become a new favorite tool of burglars throughout the country. Statistics show that nearly 75% of home invaders used a resident's online presence in some way to target and locate their home. While adults use social media and other online platforms to engage with the world, children are far more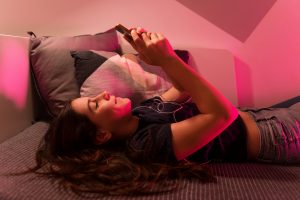 invested in their virtual life, which makes them a vulnerable target for would-be burglars looking for easy access to a vacant home.
There are many ways you can monitor your child's online presence to ensure that your entire family – and your home – are kept safe from intruders. First, it's important to know exactly how potential robbers locate the information they need.
Location Check-Ins
Heading to the airport? Make sure your child doesn't post a tweet or Facebook check in saying as much. Professional burglars look for these indications of vacant households and then perform a series of online searches to locate the exact residence.
Casual "Friends"
Friend requests and follows are a way potential home invaders try to get an inside look at your child's whereabouts. Not only do they receive extra access to your kid's profile, but they can also form a "friendship" over time with your child through which they can extract all kinds of information – including your home's address and when it's most likely to be vacant.
Public Vacation Announcements/Updates
Similar to location check-ins, if your child posts a countdown to an upcoming family vacation, that's a clear sign to robbers that your house is about to be empty soon. In addition, if they are regularly posting photos, tweets, or going live on Facebook or Instagram during vacation, that can also tip off those who are looking for vulnerable houses to target.
Daily Routine-Focused Posts
You might assume that many burglaries happen at night, but the truth is that the majority of home invasions happen between the hours of 9am and 2pm – when parents and children are most likely to be gone at school or work. If your child regularly posts Instagram stories that show the routines of the household, that can be used by potential burglars to identify exactly when the best time would be to enter your home.
Live Identity and Location Giveaways
Your child may not realize it, but even vague information can be used to find the exact location of your home. Children and teens who share live videos of themselves outside their homes, where the house number or street sign can be seen, as well as any information regarding the city or town they're in is ripe information for a burglar. It doesn't take more than a few searches and a bit of time on Google Maps to pinpoint your exact address after that.
Gaming Buddies
Multiplayer games and live gaming streams offer a unique opportunity for robbers to snag revealing information. The gaming culture can provide a false sense of security for your child as all parties are involved in a common mission, yet this is not always the case. It's important to remind your child to keep conversation away from their personal identity, location, or any upcoming travel plans your family might have.
Online Monitoring Best Practices:
There are a few basic and simple safety precautions you can take to greatly reduce the risk of a break-in. People looking online for homes to rob want the easy information – they'll move on if they run into a couple barriers. Follow these safety measures to keep your home and family safe.
Nix Location Check-Ins
Turn off your child's location settings on all their accounts, and ensure that they don't tweet or post their current location – especially if they're at the airport or on vacation with the family.
Minimize Visible Profile to the Public
Use the maximum amount of privacy allowed on each platform. Hide from public view any and all identifying information – including pictures – on your kid's Facebook profile, Instagram, and any other social media platform they use.
Vet Friendships
Online culture makes it easy for your child to add people they don't really know as a friend or follower. Set up a system to have your child check with you before they add someone as a friend or follower – especially if they don't know them personally.
Post Vacation Photos After the Trip
While it's tempting for all members of the family to update their social media accounts with pictures and videos of a family trip, it alerts any potential home invader to the fact that you're not at home – and won't be for at least a couple days. Confirm with your children and your spouse that you won't post photos till after the trip.
Use "Close Friends Only" Settings
If your child simply must post while away with the family, they can do so on Instagram via the "Close Friends Only" setting. This allows them to share stories solely with a select few trusted followers. You can check over their list to make sure that each member is indeed a close friend.
Hide Address and Home Town On All Social Platforms
If you've set your child's privacy settings at the maximum protection level, any location information will be hidden from non-friends. What if a potential robber does sneak through? The safest bet is to withhold any and all location-based information entirely from every social platform.
Communicate
Above all else, talk to your child. Set clear boundaries about what is and is not acceptable to share online, and keep the conversation going over time. You can also share with them the steps that you, yourself, are taking to protect your online presence to show them that this is not just a rule you've given them – but something that you have taken on as well.
To further decrease the chances of your home becoming a target for burglary, make sure all members of your household implement these precautions. A couple hours setting up these online barriers and some good open communication with your children will ensure maximum protection for your entire family.
NEXT STEPS:
https://www.americanalarm.com/wp-content/uploads/2020/06/iStock-1149759256.jpg
837
1254
zac
https://www.americanalarm.com/wp-content/uploads/2022/12/American-Alarm_logo_1Xr.png
zac
2020-06-17 10:34:34
2020-10-15 12:49:47
How Monitoring Your Kids' Online Activity Mitigates Break-Ins