How Far Must You Go to Prevent Your Home From Being Burglarized?
Are you relying on a security system to foil any potential home burglars? Perhaps you have a mix of protections, including cameras that monitor the premises, maybe a watchdog.
These measures may not be enough, however. A full security system — the sort that gives complete piece of mind — will include cutting-edge electronic surveillance and monitoring services.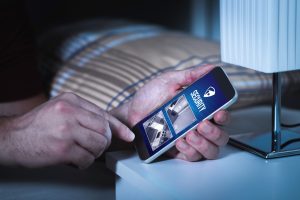 Gaps in security have resulted in successful home invasions and burglaries in the New England area. Any unsecured home can be vulnerable — all it takes is an unattended house with an unlocked door or an open window.
In February, the Boston Globe reported that police arrested a Boston man following a five-month crime spree throughout the Greater Boston area, relying on nothing more sophisticated than a crowbar. The alleged thief managed 19 break-ins across Medford, Brookline, Quincy, Watertown and Arlington before his capture.
Cameras and Dogs Alone Won't Keep Out Crooks
Cameras alone aren't necessarily a burglar deterrent. In March, the Patriot Ledger reported that Cohasset, Massachusetts police were seeking a thief who burglarized a home in that town. The police believed that same burglar had previously broken into a Scituate house, while being filmed.
The problem is that video cameras can help solve crimes, but they can't repel intruders as effectively without an integrated alarm or monitoring services. Using home video surveillance footage, police last February identified and arrested a man from Springfield, Massachusetts, for a string of Connecticut burglaries, but the camera was primarily useful after the intrusion.
Similarly, an intruder entered a home in Milton, Massachusetts, despite the presence of a dog and a live camera, according to FOX News. The intruder first knocked on the house door, discovered it was open and the home empty, and then let himself in and befriended the dog.
Fielding the Best Burglar Defense
Based on just these examples, it's clearly not enough to have just video surveillance or even man's best friend on the premises.  If the would-be thief isn't aware that there are cameras present, he or she will proceed assuming there is no surveillance.
The same applies to the presence of a canine. To help deter burglars, homeowners should advertise the presence of a camera surveillance system and/or a dog. Most thieves will see the signs and find a less challenging mark.
Another thing to consider is supplementing your systems with a monitoring solution/service. This way, if someone enters the home an alarm will go off, and a central command center is notified that can dispatch first responders. That, along with a dog, will help discourage professional thieves before they even try to enter you home.
NEXT STEPS:
https://www.americanalarm.com/wp-content/uploads/2019/04/iStock-917619014.jpg
1413
2122
American Alarm Blogging Team
https://www.americanalarm.com/wp-content/uploads/2022/12/American-Alarm_logo_1Xr.png
American Alarm Blogging Team
2019-04-24 05:34:28
2019-04-26 15:53:49
How Far Must You Go to Prevent Your Home From Being Burglarized?