Home Safety Tips for Active Seniors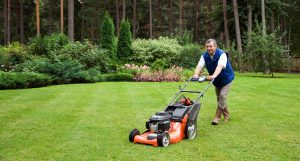 If you're one of 76% of older adults who wish to live independently as you age, you may face pushback from your loved ones, especially if your daily activities include objectively dangerous tasks. You may feel perfectly comfortable getting up on a ladder, operating power tools, or working long hours in your garden, but it's natural for your family to worry. After all, if you live alone, who will come to your assistance in the event of an accident?
Ease their worries and keep yourself safe by keeping these simple home safety tips in mind as you go about your day.
Follow recommended safety precautions
If you frequently use power tools or equipment like a lawnmower or hedge trimmer, you may feel comfortable doing so. However, following the recommended safety precautions is essential when you're home alone. Even the most experienced operators have accidents from time to time, and if you're on your own, it could prevent you from calling for help.
Use safety goggles when working with power tools, wear the appropriate footwear when mowing the lawn, and always keep your work area clear of tripping hazards. 
Be mindful of tripping hazards
According to the CDC, falls are the primary cause of injury in adults over 65. You can prevent falls by taking simple precautions. A loose dog toy or a pair of slippers left in a high traffic walkway could catch you off guard as you're carrying a bulky armful of boxes to the recycling bin. Make a habit of keeping your primary pathways clear of obstacles. 
If there are any loose stair treads or unruly rugs in your home, have them repaired or removed. You may be accustomed to avoiding them, but you may have visitors who aren't. Ensuring the flooring in your home is secure and even will prevent anyone from losing their footing. 
Use a spotter
Consider inviting someone over to spot you when you do potentially dangerous tasks. Whether climbing on a ladder to clean your gutters, paint your trim, dust your kitchen cabinets, or repair part of your deck, it's worth having someone nearby to assist you if anything goes wrong.
Ask a friend, neighbor, or family member to assist you when working with ladders. They can help you set up the ladder properly and make sure it is stable. You can also ask them to pass you the tools or equipment you need for your project instead of going up and down the ladder multiple times.
Check in with family and friends regularly
You may feel completely comfortable performing your regular gardening and home maintenance routines. Still, it's natural for your loved ones to worry knowing you're home alone working with power tools and heavy equipment. Ease their anxieties by checking in with them regularly. If you're planning to work on a project that involves a significant amount of risk, let someone know so they can check in on you.
Consider a medical alert system
A medical alert system might feel like overkill for someone active and independent, but you will be glad to have it on in case of emergency. Personal Emergency Response pendants can be worn around your neck or wrist, and you can use them to call for help with the push of a button.
There's a good chance you'll never need to use this device, but having one is sure to give your family peace of mind. Wear the device when you're doing labor-intensive, potentially hazardous tasks. You'll be relieved that help is just a simple button-push away if anything goes wrong.
Independent living is a priority for many seniors, but it may come with some compromise, especially if you regularly perform high-risk tasks involving ladders or power tools. Ease the anxieties of your loved ones by establishing a regular check-in schedule and having an emergency plan in place.
Next Steps:
https://www.americanalarm.com/wp-content/uploads/2022/03/Elderly-man-mowing-lawn-scaled.jpg
1371
2560
zac
https://www.americanalarm.com/wp-content/uploads/2022/12/American-Alarm_logo_1Xr.png
zac
2022-04-21 14:30:38
2022-04-21 14:30:38
Home Safety Tips for Active Seniors