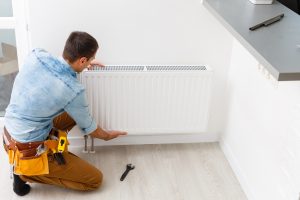 There are close to 400,000 home fires in the US every year. One of the leading causes of these fires – second only to cooking – is heating equipment. 
It is important to know how to heat your home safely to avoid a costly, dangerous residential fire, especially during the winter months when heating-related fires are more likely. Follow these home heating safety tips to keep yourself protected while staying warm and cozy this winter.
Space Heater Safety
Space heaters account for

86% of residential heating-related fire deaths

. Never leave your space heater unattended or running higher than necessary.

Turn your space heater off when you leave the room or go to bed.

Plug your space heater directly into the wall. Do not use an extension cord or power strip due to potential overheating.

Clean your space heater regularly to prevent dust accumulation, which can easily catch fire.
Fireplace Safety
Use a fireplace screen.

Cool any fire ashes completely, then place them in a metal container with a lid for disposal. 

Clean your fireplace flue before use.

Have your fireplace inspected regularly to make sure there are no blockages.

Never leave a burning fire unattended.
Furnace Safety
Get a professional to come inspect your furnace at least once a year.

Keep the area around your furnace clear of debris. 

Do not leave flammable materials near your furnace.

Don't put off furnace maintenance. Get it done as soon as you notice a problem.
General Heating Safety
Never use your oven or stove to heat your home.

Install

smoke detectors

 and test them regularly. Replace any malfunctioning sensors or batteries.

Only plug one heat-producing appliance into an electrical socket at a time.

If you smell gas in your home or coming from any device or appliance, leave your home immediately. Do not attempt to light anything in your home. Call your local fire department or gas company to have them inspect your home for gas leaks and fire hazards.
Keep these tips in mind and you'll enjoy a happy and safe winter season!
NEXT STEPS:
Contact us today to learn more about home heating safety.
Stay up to date on security topics such as home alarm systems, business security systems, video surveillance systems, IP video networks, remote video monitoring, fire alarm systems, and fire alarm inspections.
https://www.americanalarm.com/wp-content/uploads/2020/12/iStock-1186963521-1.jpg
836
1254
zac
https://www.americanalarm.com/wp-content/uploads/2022/12/American-Alarm_logo_1Xr.png
zac
2020-12-30 13:04:18
2020-12-30 13:04:18
Home Heating Safety Tips