Halloween: Spooky Security Facts for Homeowners
Halloween crept up quicker than you can say "boo!" and you should be aware of the night's spooky security facts. About 175 million Americans will be observing the holiday in some form, says CNN. With all those parties, costumes and related activity in New England and beyond, it should be no surprise Halloween can be a scary day for homeowners.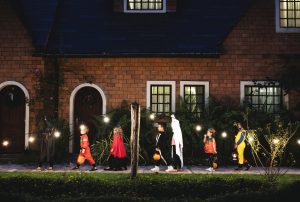 In fact, the holiday sees a 17 percent spike in home claims for vandalism, theft and other crimes, as compared to the 364 other days a year, notes a recent CNBC article.  The most common vandalism acts include kicked-in doors, broken windows and mailboxes knocked down. Also, in-house theft claims jump by 60 percent, says a USA Today article.
Ward off Halloween Vandals and Thieves
Luckily, you can prepare your property in advance to proactively stop vandalism and theft. Consider doing the following (based on the articles cited above):
  Physically prepare your property:
Make your preparations the day before Halloween. According to CNBC (citing Traveler's Insurance data), homeowner claims actually start jumping on October 30.

Clear the yard of hazards and obstacles that revelers might stumble on (or thieves might hide behind).

Think about illuminating your front and back yards, and keeping the indoor lights on. Shutting off your house lights to discourage trick or treaters actually may act as a reverse beacon to thieves.

Consider motion detection systems in the yard to activate lights if you don't want to leave them on all night.

Properly secure doors and windows.
  Know what your insurance covers:
Examine your insurance policy for shortfalls: it generally should cover theft/vandalism.

Be sure you're OK with the deductible. Most insurance policies have deductibles running from $500-$1,000 before coverage activates.

You might want to consider liability for trick or treaters, just in case of lawsuit.

Inventory your belongings.
  After deciding on your activities for the night, plan accordingly:
If you plan to leave the house, see if your neighbors can be extra vigilant on your behalf.

Don't announce your plans to leave the house on social media. Crooks read Facebook, too.

If you aren't driving anywhere, park the car in your garage, if you have one.
  Consider electronic solutions:
For extra safety, install an electronic surveillance and intruder detection system, from a reputable vendor.

This solution can include smart sensors, cameras, alarms and police notification capabilities.

You can also add to your safety by subscribing to a reliable property management service.
Don't Wait to Be Safe
If you are interested in this option, talk to American Alarm today. You can enjoy your New England Halloween at home or remotely with equal ease, knowing that the entire property is being watched, and any unwanted visitors will immediately trigger your alarm systems.
Next Steps
https://www.americanalarm.com/wp-content/uploads/2022/12/American-Alarm_logo_1Xr.png
0
0
American Alarm Blogging Team
https://www.americanalarm.com/wp-content/uploads/2022/12/American-Alarm_logo_1Xr.png
American Alarm Blogging Team
2018-10-31 11:02:39
2018-10-31 11:03:37
Halloween: Spooky Security Facts for Homeowners