Giving Back: ASIS Annual Public Safety Luncheon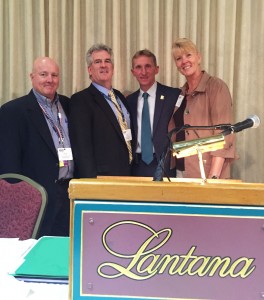 American Alarm was proud to attend the Annual Public Safety Appreciation Luncheon and celebrate our partners in the public safety sector. This annual luncheon promotes the growing cooperation between police, fire, emergency services, corrections personnel and private security.
Boston Police Commissioner William Evans gave a fantastic speech, commemorating all of the obstacles the security sector has overcome this year. Challenges, such as providing uncompromised security for the Boston Marathon and Super Bowl Victory parade or dealing with record breaking snowfalls, have strengthened solidarity in our industry. As Commissioner Evans pointed out, "Interagency doesn't happen better anywhere than in the city of Boston".
We were especially proud to show our support for the brave men and women of the Massachusetts Police force. Each day, they put their lives on the lines to protect us. Their work is often thankless, and today also heavily criticized. While other cities are dealing with major protests and turmoil, we have united and stood Boston Strong. Our strength truly stems from the courage, compassion, and integrity of our police force.
All of us at American Alarm are honored to work alongside the professionals in our industry. We look forward to continuing to grow and build partnerships.
https://www.americanalarm.com/wp-content/uploads/2022/12/American-Alarm_logo_1Xr.png
0
0
American Alarm Blogging Team
https://www.americanalarm.com/wp-content/uploads/2022/12/American-Alarm_logo_1Xr.png
American Alarm Blogging Team
2015-06-16 11:34:30
2015-06-16 11:34:30
Giving Back: ASIS Annual Public Safety Luncheon