Four Tips to Improve Productivity by Leveraging Commercial Security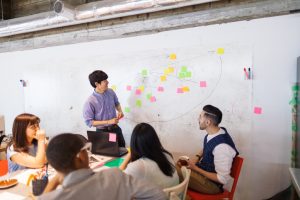 New England boasts the most well-educated workforce in the nation, yet productivity is still an issue – as it is everywhere in the United States. It is imperative for companies to find a way to increase employee engagement, and decrease stressors, pressures, and distractions that lead to a lack of productivity.
One of the best ways to do this is by implementing a stronger commercial security infrastructure. These added measures will fortify your business against wasted hours, employee distrust, and other productivity stealers. The following four tips show you how to use commercial security to increase productivity among your employees – across all areas of your business.
Let Your Employees Know You're Watching
Perhaps that sounds a bit "Big Brother," but studies show that humans simply work more efficiently and use more of their potential when they know someone may be watching. Rather than invest in invasive – and potentially ineffective – productivity monitoring software, employ more surveillance cameras throughout the office. This simple move will both increase worker productivity and decrease issues such as theft within the company.
Explain the Employee-Centered Benefits
People are happier when they know why something is happening. When you make a change to your commercial security, outline for your employees why you've chosen to add more security and how they stand to benefit. This simple sign of respect will go a long way in increasing worker happiness and decreasing stress.
Monitor Your Products and Infrastructure
Productivity goes beyond your employees. Your temperature-sensitive products, air quality, and even your pipes can be major productivity killers when not monitored appropriately. Environmental security ensures that all your assets are kept safe and ready for use or distribution.
Decrease Office Vulnerability
In the case of a power outage, your alarm system still needs to work for you. Without a fully protected, backed up system that is connected to a cell tower, a blackout will leave your office space vulnerable to intruders, which could have a long-reaching effect on your business productivity. Backup communications will allow you to send an emergency signal no matter what.
NEXT STEPS:
Contact us today to learn more about protecting your business or home.
Stay up to date on security topics such as home alarm systems, business security systems, video surveillance systems, IP video networks, remote video monitoring, fire alarm systems, and fire alarm inspection.
https://www.americanalarm.com/wp-content/uploads/2020/07/iStock-1160029269.jpg
483
724
zac
https://www.americanalarm.com/wp-content/uploads/2022/12/American-Alarm_logo_1Xr.png
zac
2020-07-29 14:58:58
2020-10-15 12:01:48
Four Tips to Improve Productivity by Leveraging Commercial Security