Four Reasons New Englanders Should Consider a Career in the Home or Business Security Industry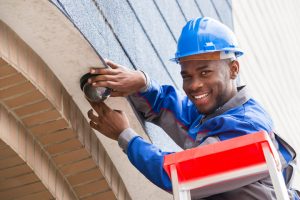 Security—cyber or otherwise—remains a top concern for New Englanders in 2021. Feelings of safety and security for residents has dropped 2% in the last two years, down to 40%. For most residents, this concern is in relation to fraud, package theft and property crimes. Businesses, on the other hand, continue to worry about employee theft and various cybersecurity threats.
With such a focus on security by both homeowners and business owners, it is easy to see how the home and business security industry offers consistent, reliable work. For those looking into a career in business and residential security, consider the following four benefits.
1. Demand for security industry technicians is increasing
The myriad security concerns that face the New England population today keep security technicians, Central Station operators, and other security-based roles in high demand. Homeowners and business owners alike want to feel safe, and working with a professional security company to install a monitored security system is a common solution for them. There is currently no indication that this demand will decrease, which makes a career move into the security sector a wise one.
2. The security industry is a stable employer
While the security industry took a bit of a hit during the pandemic, it did not face the downturn other industries experienced. In fact, the security industry's market size continues to grow at a faster rate than the economy's national average.
Though some security companies still had to execute some layoffs or furloughs throughout the pandemic, some companies, such as American Alarm, were able to retain all their employees. "AA continued to run and didn't lay anyone off," says Joe Doyle, American Alarm's Human Resources Director, "The city of Boston shut down and those electricians are on the sidelines, but AA kept going." This is encouraging for those looking to use their talents in a career path that offers more stability in times of global or local crisis. 
3. There is opportunity for empowerment and advancement
While this may be company-specific, those who begin their career with the Central Station—the Operations Center that responds to alarm activity—may go on to work in the security industry in another capacity. 
"We're offering a view into a career path," says Chris Newhook, Director of Monitoring Operations for American Alarm, "We're always keeping an eye out for folks who want to grow and give them a path, and that may or may not be in the Central Station."
In addition, Central Station workers may find their role allows them to achieve a greater sense of ownership and empowerment than they've found in other customer service roles. "Our team members know that from a day-to-day perspective they're empowered. They've been rigorously trained, have the knowledge required and appreciate that we expect them to wield it, to be able to share it, to be able to make decisions and not have to constantly go back to a central focus of power for knowledge." 
The security industry offers solid career opportunities for electricians, engineers, and veteran customer service representatives. It also gives those seeking a new career with growth potential a chance to reach their full potential. As long as physical and cyber security threats continue, security technicians and Central Station workers alike can expect longevity in their careers.
NEXT STEPS:
https://www.americanalarm.com/wp-content/uploads/2021/11/Home-Security-Technician.jpg
480
720
zac
https://www.americanalarm.com/wp-content/uploads/2022/12/American-Alarm_logo_1Xr.png
zac
2021-11-05 09:19:29
2021-11-05 09:19:29
Four Reasons New Englanders Should Consider a Career in the Home or Business Security Industry