Fire Prevention Week: Have Two Ways Out
Did you know that only one-third of Americans have both created and tested a fire escape plan? About three-quarters of Americans take the time to develop escape plans, but less than half of those people actually test them, according to the National Fire Protection Association (NFPA).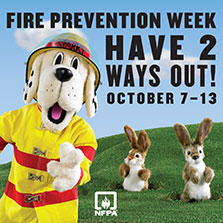 One-third of American households who develop an escape plan estimate they would have at least six minutes before a fire in their homes would become life-threatening. However, they really have much less time to get out, according to a NFPA survey.
Because of the importance placed on escape planning, the theme of the NFPA's Fire Prevention Week this year is "Have Two Ways Out." It's not only important to have a fire escape plan to prepare your family when a fire does occur, but your family must also know what to do if that escape route is blocked by smoke or fire.
Tips* for escape planning:
Install smoke alarms in every bedroom, outside every bedroom and on each level of the home (per local code).
Make an escape plan with a map and floor plan, showing all possible escape routes, including all windows and doors. Mark the location of every smoke alarm. Walk through the plan with everyone who lives in your home.
Know two ways out of every room. Check all doors and windows to be sure they open easily in case of a fire. The door should be the main exit, but if the door is blocked by fire or smoke, identify an alternative such as a window. Practice with everyone to be sure all occupants know how to operate and unlock windows and doors.
Store collapsible ladders in an easily accessible spot near second floor windows. Practice using the ladder from a first floor window, and only allow children to practice using the ladders with an adult present.
Instruct everyone to leave the home as soon as they hear a fire alarm or detects smoke/fire. Direct everyone to choose the safest escape route, which is where there's the least amount of smoke and fire. Close doors on your way out to prevent the spread of fire.
Explain to family members that they should feel doorknobs carefully when they approach closed doors. If a doorknob is hot, don't open the door; instead use the second escape route.
Instruct children to escape on their own if they can. Decide who will assist those who need help getting out of the house, including young children, the elderly or people with disabilities. Designate an alternate person in case the designated person is not at home when the fire occurs.
Designate an outside meeting place, such as beside a particular tree. Mark the meeting spot location on the escape plan.
Practice using the escape plan at least twice a year. Practice all the escape routes, and perform the drill during the day and at night. When practicing at night, wait until children are asleep to test how quickly they awaken to the sound of a smoke alarm. If they don't waken quickly, assign someone to wake them up in case of a real fire.
When practicing, teach people to cover their mouths and also teach them how to get down low and crawl on the ground in case they must go under smoke when escaping.
If your family members can't escape from either route, instruct them to keep doors closed and cover vents and cracks around the doors with duct tape or towels. If possible, open windows at the top and bottom to allow fresh air in. Tell family members that if they become trapped inside they must stay by a window and signal for help with a flashlight or a light-colored piece of clothing.
Teach every family member how to call the fire department number, but remind them to get out of the house first. Call the fire department from a neighbor's house or from a cell phone, once outside the home. Teach family members never to re-enter the home once they've escaped. Tell children never to hide from firefighters.
Tell visitors about your escape plan. When staying overnight at a friend's house, especially when your child is invited to a sleepover, be sure your host has a plan in place.
Additional Resources
Take the 2 Ways Out Challenge with your children >>
Learn the words to NFPA's Two Ways Out song to sing with your children >>
Download the Family Fire Safety Checklist >>
Download the Escape Planning Tipsheet >>
Download the Home Fire Escape Plan with grids to outline your floor plan >>
Download the Sleepover Checklist >>
Watch this video from the NFPA on Fire Prevention Week resources, including more about the year's theme "Two Ways Out."
*Tips have been compliled from lists created by National Fire Protection Association, U.S. Fire Administration and the American Red Cross.
https://www.americanalarm.com/wp-content/uploads/2022/12/American-Alarm_logo_1Xr.png
0
0
American Alarm Blogging Team
https://www.americanalarm.com/wp-content/uploads/2022/12/American-Alarm_logo_1Xr.png
American Alarm Blogging Team
2012-10-11 08:53:38
2012-10-11 08:53:38
Fire Prevention Week: Have Two Ways Out