Don't Let Package Thieves Steal Your Holiday Cheer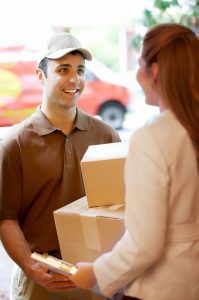 Christmas time is not only the season for giving — for package thieves, it's the time for taking. That risk increases each day leading up to Christmas.  
Roughly 30 percent of Americans are victims of package theft according to ABC. With Cyber Monday sales estimated to have hit a whopping $8 billion, the opportunities for grab-and-go package thefts are just going to get worse. Ultimately, the threat of such thieves could put a dent into e-commerce itself, says an Inc. article.
These aren't always just one-offs by random crooks. There are criminals who focus on package thefts, says a blog from Shorr Packaging Corp. Thieves can even form a coordinated gang. Just this month, police in Quincy, Massachusetts, caught a quartet of accused package thieves in a rented car that had stolen multiple packages from a city neighborhood.
Protecting Your Packages
The local threat is so serious this season, New England authorities have issued warnings to the public. The Cambridge, Massachusetts, police department will even increase patrols in high risk areas. The department also offers the following advice to frustrate holiday porch bandits:
Buyers should require all deliveries include a signature (preventing any unattended parcels)

Track packages online so you can plan to be home when they arrive

Ask for delivery on weekends to increase the chance someone will be there to receive it

Request delivery notifications

If need be, have packages delivered to your work address or to a neighbor/friend

Install a lockbox that can only be opened by a delivery company
Eyes on Your Prizes 24/7
You can also take the protection up a notch by installing video surveillance cameras at your doorstep and other relevant areas of your home. This type of footage often goes viral online and can also be shared with police to identify and possibly capture thieves.
To make your camera system more effective, place a sign announcing that the house is under video surveillance. This should deter most would-be package thieves. You can also subscribe to a monitoring service to watch your property when you are absent.
Locally, American Alarm is a proven vendor with robust solutions and reliable surveillance services available. We can provide viewing services from our 24-hour Security Command Center. We can watch your property at specific times each day, or in response to warning signs, 24/7/365.
Talk to us today and ensure you have the happiest holiday season
NEXT STEPS:
https://www.americanalarm.com/wp-content/uploads/2022/12/American-Alarm_logo_1Xr.png
0
0
American Alarm Blogging Team
https://www.americanalarm.com/wp-content/uploads/2022/12/American-Alarm_logo_1Xr.png
American Alarm Blogging Team
2018-12-05 16:00:45
2018-12-05 16:00:45
Don't Let Package Thieves Steal Your Holiday Cheer