Cyberbullying and Remote Learning | National Cybersecurity Awareness Month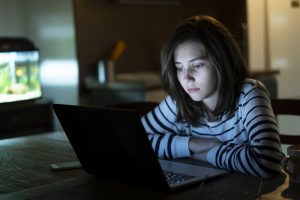 Whether they are the perpetrator, victim or witness, the majority of today's schoolchildren will be involved in cyberbullying in some way. Now that most schools have moved online, instances of cyberbullying are likely to rise even higher. Access to the internet and their cell phone during remote learning hours will inevitably increase the risk for real-time cyberbullying. 
The negative effects of online bullying can be severe. Victims are far more likely to use and abuse substances, skip class, and receive failing grades than their non-bullied peers. They are also at a greater risk for serious mental health issues such as depression, chronic anxiety and suicide ideation. Parents and teachers need to take particular precautions during this season of online schooling to make sure their child's health and wellbeing are protected.
What Can You Do to Protect Your Child from Cyberbullying?
Be Aware of Your State's Cyberbullying Laws
Each state has their own set of laws and regulations focused on cyberbullying. Educate yourself on your state's specific laws so that you can be armed with accurate information if your child becomes the victim of cyberbullying.
Keep Open Lines of Communication with Your Child
Talking about cyberbullying with your children can be a delicate subject matter. Often victims of online bullying try to hide it from their parents. This is true of attackers as well. Try to talk with them regularly, openly and without judgement about how they are treating or being treated by other children. Even if they do not come right out with the information, their response can still alert you if something is wrong.
Monitor Their Accounts
Keep a close eye on your child's online practices to stop attacks. Children can often become pressured into bullying other children, but knowing that you will be watching their online activity can stop them from giving in to that pressure.
Know What Cyberbullying Really Means
Cyberbullying is specifically defined as repeated, intentional harassment, mistreatment, and teasing of another person online. It can happen in chat rooms, via text, on social media and now even during online schooling. Along with knowing your state's regulations, a strong grasp on the true meaning of cyberbullying will allow you to present a better case that can help your child receive relief and bring attackers to justice. 
Set Up a Surveillance System
Keep an eye on your child's online practices by installing a video surveillance system to monitor their computer usage. During class hours you can peek in on them to see if they are tuned in to class, or if they are engaged in other, more dangerous online activity. 
NEXT STEPS:
Contact us today to learn more about protecting your child at home.
Stay up to date on security topics such as home alarm systems, business security systems, video surveillance systems, IP video networks, remote video monitoring, fire alarm systems, and fire alarm inspections.
https://www.americanalarm.com/wp-content/uploads/2020/10/iStock-1197197042.jpg
836
1254
zac
https://www.americanalarm.com/wp-content/uploads/2022/12/American-Alarm_logo_1Xr.png
zac
2020-10-21 10:08:33
2020-10-21 10:08:33
Cyberbullying and Remote Learning | National Cybersecurity Awareness Month