Business Security Cameras: Intruder Protection-Plus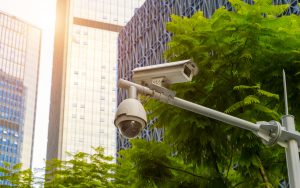 Security cameras can be key to fighting shoplifters, detecting and identifying intruders, and more. However, there are other advantages that come with high-resolution surveillance — benefits that promote return on investment for your cameras and connected solutions.
Camera footage can work in the long-term to ID criminals, and some higher-end systems include advanced analytics to count people and vehicles, ID and follow individuals, check against databases, etc. For instance, a Walgreen's camera recorded a bold ATM theft within the Methuen, Massachusetts, store in January 2018.
The system caught attempts by thieves who were using vehicles to smash into the store and rob the ATM with brute force. The police matched the Walgreen video footage with that taken from a Sunoco station that had been robbed in a similar way (with thieves using vehicles and chains).
ID Missing People, Capture Unexpected Events
Camera footage in public and private areas can yield unexpected benefits. For instance, surveillance footage from a variety of cameras helped police locate a missing Boston woman, according to a January news article. The footage even showed the missing woman being touched and guided by a man — who was later arrested and charged.
Business cameras in the retail industries can also document unexpected but noncriminal events. Last March, a gas station camera in Brockton, Massachusetts, recorded the accidental crash of a Subaru into the pump, and the subsequent fire. Such videos can be used to document the incidents and determine liability.
Boost Camera ROI
Cameras enable a variety of useful tools, particularly in this era of ever-expanding Internet of Things solutions. Without abusing privacy, business owners can legitimately use cameras to:
Maintain employee/facility safety. Besides just watching for crimes such as shoplifting, cameras can reveal if improper techniques are prevalent in your workplace (particularly if you are in manufacturing, repair, or any other manual labor-intensive industry).

Improve operations. This can apply in many industries, such as retail, where workers need to be shuffled from the back room to the register at a moment's notice.

Discourage improper customer or employee behavior. Knowing a camera is watching can discourage sexual harassment, shoplifting, or violent episodes.

Gain insight into the overall daily trends at work. See when customers arrive and leave, monitor worker productivity, count register queue lines, etc.
Modern, analytical camera systems can provide invaluable benefits and offer a tremendous return on investment.
NEXT STEPS:
https://www.americanalarm.com/wp-content/uploads/2019/04/iStock-872436876.jpg
1370
2187
American Alarm Blogging Team
https://www.americanalarm.com/wp-content/uploads/2022/12/American-Alarm_logo_1Xr.png
American Alarm Blogging Team
2019-05-01 10:57:44
2019-05-01 15:16:34
Business Security Cameras: Intruder Protection-Plus