Benefits of Using a Keyless Entry System for Your Home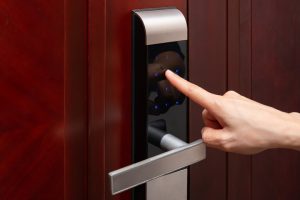 For families and households where many individuals are coming and going, keyless entry offers additional security and convenience. There's no longer a need to hide a spare key for service providers or any concern about your children misplacing their key copies and getting locked out of the house after school. With keyless entry you can add and revoke access to your home any time you need to. You don't even need to be there in person!
Here are some of the top benefits of using a keyless entry system in your home. 
You know who is coming and going
A keyless entry system makes it easy to see who is coming and going from your home and when. You can program unique access codes for each member of your household and any service providers who may need access, such as your dog walker or house cleaner. 
You can tie your keyless entry system into your home security system. This way, anytime someone unlocks your front door, you'll receive an alert through your system's mobile app. You'll be able to easily verify that your kids arrived home from school or that your dog walker showed up on time!
Easy code changes offer enhanced security
Unlike a traditional keyed lock, keyless entry systems make it easy to change access codes regularly. You can also deactivate access codes that you've granted in the past. That way, you can easily create and revoke access for service providers. 
Changing your access code periodically is a great way to ensure your home remains secure in case the former code was guessed or shared. 
With keyless entry, no risk of losing your key
A misplaced house key can represent a large hassle. For instance, if your kids wind up locked out of the house, you may have to leave work early to go home and let them in. A common solution is placing a hide-a-key somewhere on your property, which could leave you vulnerable to break-ins if the key is ever discovered.
With keyless entry, there's no need for any member of your household to worry about carrying a key. All you have to do is remember the access code! 
Keyless entry can be easier for individuals with mobility issues
Keyless entry is a fantastic alternative to a standard lock for those struggling with fine motor skills. You can open a keyless door lock by pushing a few buttons, which may be easier for some individuals than turning a key. In some cases, you can even program the lock to work with a smartphone app, enabling you to operate it using voice control.  
Keyless entry offers peace of mind for busy households, ensuring anyone can access your home any time they need to. You can tie it in with your home security system to make it easy to monitor who is coming and going from your home at any given time. If you think your family could benefit from keyless entry, speak to an American Alarm security consultant for more information.
NEXT STEPS:
https://www.americanalarm.com/wp-content/uploads/2022/09/Keyless-Entry.jpg
480
720
zac
https://www.americanalarm.com/wp-content/uploads/2022/12/American-Alarm_logo_1Xr.png
zac
2022-09-22 11:39:35
2022-09-22 11:39:35
Benefits of Using a Keyless Entry System for Your Home