Beat the Heat: Tips for Staying Cool this Summer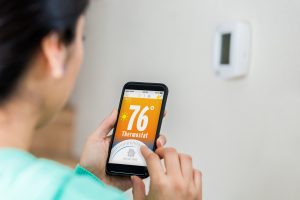 We spend all winter in New England dreaming of the warm summer months, but when they finally arrive many of us miss cooler temperatures. Whether you love or hate the heat it is important to take precautions, especially during heat waves.
Here are our tips to keep you and your family safe.
Keep everyone hydrated.
During a heat wave, make sure you are sending everyone in your family out with plenty of drinks. Stick to fluids that hydrate (such as water or sports drinks) and avoid ones that dehydrate (soda, fruit juices, coffee, alcohol). Be sure to leave extra water for your pets too!
Avoid strenuous physical activity.
A 100 degree day isn't ideal for yard work or soccer games. On super hot days consider indoor activities, such as going to a movie or catching up on housework with the AC blasting. There will be plenty of mild summer days to enjoy being outdoors!
Add smart thermostats and temperature monitoring.
Unless you are a weather buff you may be unaware of an upcoming heat wave. Lots of people turn their thermostat up when they leave for work or turn the AC off entirely. During a heat wave the temperature in your home may reach uncomfortable levels, especially for your pets stuck inside. Installing a smart thermostat will allow you to monitor the temperature in your home throughout the day, so you can cool it down if you need to.
Wear proper attire.
Dress in loose fighting, light weight, and light colored clothing. Avoid wearing darker clothing that will attract the sun rays. Also be careful of exposing too much skin for an extended period of time- you don't want to get a sun burn!
Seek medical attention if you feel nauseous/ cramp up.
According to the American Red Cross, heat exhaustion can lead to a heat stroke. Symptoms of heat exhaustion include general weakness, cramping, excessive sweating, nausea/ vomiting, possible fainting, and pale, cold clammy skin. Signs of a heat stroke are an internal body temperature above 103° F, rapid heart rate, loss of consciousness or delirium, and hot, red, dry or moist skin. If you experience any of these symptoms, call 911 immediately.
NEXT STEPS:
https://www.americanalarm.com/wp-content/uploads/2022/12/American-Alarm_logo_1Xr.png
0
0
American Alarm Blogging Team
https://www.americanalarm.com/wp-content/uploads/2022/12/American-Alarm_logo_1Xr.png
American Alarm Blogging Team
2017-08-09 09:31:16
2017-08-01 10:31:14
Beat the Heat: Tips for Staying Cool this Summer