BBQ Safety Tips for the 4th of July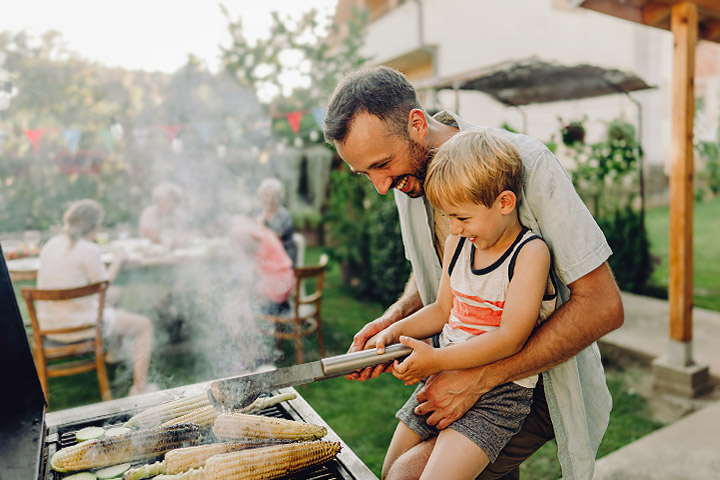 One of the most popular days of the year for hosting get-togethers and barbecues is the 4th of July. What should be a fun day can quickly become dangerous if safe barbecuing isn't practiced. To enjoy a day filled with friends, family, and good food, make sure to follow these barbecue safety tips:

Position the Barbecue Safely
Before you begin grilling, it's important to place the grill in a safe place, even if you're going to be standing next to it the entire time. A grill that catches on fire can quickly spread to the patio, carport/garage, or house. Your barbecue should be placed at least 10 feet from your house and other structures. Grills should not be used underneath overhangs, wooden or otherwise, as flames can flare suddenly and set fire to the structure. Ensure your grill is stable on the ground and won't tip over, causing bodily harm or property damage.
Double-check that your home fire alarm is functioning properly so everyone in your household will be alerted effectively in case of a fire.
Grill Maintenance
Whether you've used your grill recently or not, it's important to start barbecuing with a grill that is free of debris and grease – these substances can fuel fire.
Each time you use your grill, charcoal ashes gather at the bottom, which can block vents in the bottom of the grill. Grease and food particles that have burnt on the grill build up, which is not only a fire hazard but can attract and harbor germs. Clean your grill well after each use, using a brush with a built-in scraper to remove burnt food. Wipe grates and racks with a damp rag.
Protect Pets and Children
If you have pets and children, keeping them out of the immediate area while you're barbecuing is necessary. Pets don't understand the dangers around them and should be contained. Have a discussion with children about staying away from the grilling area when it's in use, and remind them about fire safety.
Set up activities for children to occupy themselves with while grilling is taking place. According to The National Fire Protection Association, children under the age of 5 account for an average of 46% of contact-type burns associated with grills each year. These typically occur when a child bumps, touches, or falls on the grill, grill part, or hot coals.
General BBQ Safety Precautions
Preparing before, during, and after the grilling process is important. Here are some things to consider:
Keep decorations away from the grilling area. A sudden gust of wind can send a flame into decor or blow decor into a rising flame.
Keep a fire extinguisher nearby and ensure you know how to use it.
Have a spray bottle of water at hand in case of small flare-ups.
Don't spray lighter fluid directly on hot coals; it can cause a fire.
Inspect the gas hose for leaks prior to the first use of the season.
Don't store paper towels, mitts, grill covers or even wood chips underneath the grill as the area becomes hot. This area is best for storing metal accessories such as tools and grill pans.
Store your grill indoors and away from elements that can cause rust or mold when not in use. Never store propane indoors.
These tips will help you safely enjoy the 4th of July and every grilling session this summer!
NEXT STEPS:
https://www.americanalarm.com/wp-content/uploads/2023/06/bbq_safety.jpg
480
720
alarmadmin
https://www.americanalarm.com/wp-content/uploads/2022/12/American-Alarm_logo_1Xr.png
alarmadmin
2023-06-29 08:27:19
2023-06-22 13:27:45
BBQ Safety Tips for the 4th of July