American Alarm Acquires Two Rhode Island Security Companies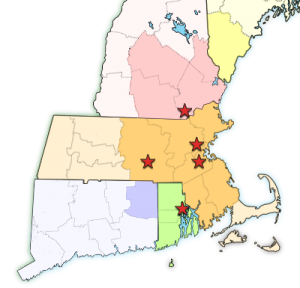 American Alarm & Communications today announced it has completed the acquisition of Electronic Alarm Systems (EAS) and Phoenix Fire Alarm & Communications, firms that provide life-safety and security services to homes and businesses across Rhode Island.
The Warwick based companies will continue to operate from their current location and pursue new opportunities to grow their residential and commercial life-safety and security services.
"We are looking forward to serving the customers of Electronic Alarm Systems and Phoenix Fire Alarm and Communications," said Wells Sampson, President of American Alarm. "These companies have a long history of serving Rhode Island customers. We look forward to carrying on their tradition of passion for excellent, caring service. American Alarm's strengths will help these companies grow."
Thomas Mitchell, co-owner and general manager of EAS and Phoenix, will remain as a consultant to the companies during the first six months of transition, and then plans to retire from the business. Henry Guzeika Jr., co-owner and son of EAS founder the late Henry Guzeika, will stay on full-time as general manager. "We are looking forward to beginning this new chapter in the life of our companies," Guzeika said. "By combining the strengths of these companies into a unified team, we will be able to better-serve our customers."
EAS and Phoenix currently serve several thousand residential and commercial customers across Rhode Island and southern Massachusetts. There will be no disruption of security or monitoring services because of the acquisition. EAS and Phoenix will operate as divisions of American Alarm & Communications Inc and they will maintain a 24-hour service presence at their current Warwick location.
American Alarm & Communications has had a significant presence in Rhode Island for more than 20 years. In the early 1990s, American Alarm acquired Electro Systems of Fall River, Mass. which served numerous customers in the Ocean State, with a concentration in the Newport area.
"We have known Tom Mitchell and the Guzeika family for many years. We have worked together on security association issues, on training programs, and EAS has provided services for several of American Alarm's current customers in Rhode Island," said Louis Sampson, Vice President and Chief Financial Officer at American Alarm. "So we know this is a great fit for our organizations. We look forward to growing in Rhode Island, and creating new jobs as we grow."
https://www.americanalarm.com/wp-content/uploads/2022/12/American-Alarm_logo_1Xr.png
0
0
American Alarm Blogging Team
https://www.americanalarm.com/wp-content/uploads/2022/12/American-Alarm_logo_1Xr.png
American Alarm Blogging Team
2012-02-13 10:37:24
2012-02-13 10:37:24
American Alarm Acquires Two Rhode Island Security Companies