A Great Time for School Security System Upgrades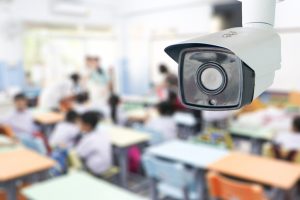 Upgrading School Security Systems
As a school administrator, are you wondering how to respond to new threats such as COVID-19 when you reopen your facilities? Besides the usual risks (vandals, thieves, intruders and potential shooters), administrators must now factor in hygiene and cleanliness protections (surveillance and monitoring may assist with these efforts).
The upside is that school buildings are less occupied and quieter than usual because of the pandemic. This provides the opportunity to get large projects done with less disruption, including bigger and more ambitious security infrastructure upgrades than would be possible during a normal summer season.
New England School Security Revamps
According to a local press report, there are new holistic safety systems and approaches available for investment. The article gives the example of a "shot spotter" solution at the Framingham Public Schools that can identify the location of an active shooter and share that with police. 
Electronic access control and monitoring is another crucial security area, as a high tech security blog points out. It notes that some schools in Worcester, Massachusetts, rely on a single integrated security system. With it, administrators monitor security cameras and visitor access via one interface. Also, Essex Tech in Danvers, Massachusetts, spent $75,000 last year for a set of security technologies. This included camera upgrades (with mobile access capabilities) and an electronic door keypad system.  
Variety of School Security Touchpoints
As an administrator (or even an interested parent or school committee member), have you considered this summer what you might want to invest in? According to the above articles, Massachusetts school districts have recently procured: 
 

Electronic access door controls

 

Surveillance cameras

 

Radios

 

New server/software solutions

 

An intercom/paging system

 

Training
Any school can improve safety with a high-resolution 24/7 surveillance system, alarms and access control. Pairing these systems with professional central-station monitoring services would be a sound safety investment this summer.
NEXT STEPS:
Stay up to date on security topics such as home alarm systems, business security systems, video surveillance systems, IP video networks, remote video monitoring, fire alarm systems, and fire alarm inspection.
https://www.americanalarm.com/wp-content/uploads/2020/07/iStock-959881422.jpg
483
724
zac
https://www.americanalarm.com/wp-content/uploads/2022/12/American-Alarm_logo_1Xr.png
zac
2020-07-08 09:59:27
2020-10-15 12:05:02
A Great Time for School Security System Upgrades