9 Tips to Keep College Kids Safe on Campus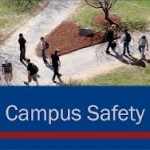 It's only about a month into the school year and The Harvard Crimson is already reporting crimes against students on campus.
As the Federal Bureau of Investigation reports, the environment of a college is much different than the high school environment a student is accustomed to. In a college setting, the student is exposed to many more buildings and larger classrooms, and has less control over access.
Varying student schedules minimize routine contact between students and educators, making it less conducive for educators to recognize the concerns of their students. Additionally the developmental stressors of the college environment – academic and social pressures, along with the need to establish self-sufficiency – may cause students to socially withdraw or turn to alcohol or drugs, increasing the chances they might be victims of crimes or even the perpetrators.
In an effort to make both students and parents aware of the dangers on college campuses and offer students guidance on ways to keep themselves safe, colleges all across the United States recognize September as National Campus Safety Awareness Month.
Here are nine tips* to help keep you safe on campus:
1. Rely on the buddy system. Walk with others at night, including to and from your car, whenever possible. Stay on well-lit, commonly traveled pathways. Avoid taking shortcuts down alleyways, in unlit areas or areas containing shrubs, bushes and trees where someone can hide. Stay away from athletic fields after dark. Many campuses provide escort services so you never have to walk alone at night. Work out with a friend as opposed to going to the gym by yourself. If you do go somewhere alone, always tell a friend where you're going and when you plan to return.
2. Always keep doors and windows closed and locked. Lock doors even when you're only leaving for brief periods. Lock doors when you're outside as well as inside the residence. Always lock car doors and hide any valuables in the car out of sight. Never prop open an exterior door or let a stranger in; residence halls should always remain inaccessible to those without keys. Keep windows closed and locked at all times, especially if you aren't in the residence or when you're sleeping.
3. Remember other students are strangers, too. Do not go with, or accept from rides from strangers, including other students, unless you know them well. Never accept a drink from someone you don't know well and never give anyone you don't know well your personal information.
4. Report crimes and suspicious activity immediately. Call campus security or the police anytime you feel uneasy about a situation or an individual, or if you think a crime may be occurring.
5. Drink in moderation. Excessive drinking impairs your judgment and makes you an easy target.
6. Stay aware of your surroundings. When walking toward your vehicle or residence, keep your keys in hand and look around you for suspicious individuals.
7. Act on your gut instinct. If you think you're being followed, cross the street and run to a campus building, a business, or if you're being chased, flag down a motorist. If you're in an elevator and someone makes you feel uneasy, get off at the next floor. While you're riding the elevator stand next to the control panel so you can press the alarm, if necessary.
8. Keep safety in mind, even when you're driving. Before getting in your vehicle, check the back seat and floors. Park in well-lit areas, and, whenever possible, drive on well-lit roadways. Keep your windows rolled up and the doors locked. If you're followed, drive to a place where you can get assistance, such as a police station.
9. Limit valuables. Limit the valuables you keep in your residence or that you carry with you. Avoid carrying laptop computers, wearing expensive jewelry or watches, or carrying large amounts of cash.
For more about campus security consult the resources at the Clery Center For Security on Campus and U.S. Department of Education's Campus Security page. The Jeanne Clery Disclosure of Campus Security and Campus Crime Statistics Act (Clery Act) is a federal law requiring colleges to disclose information about campus crime and security policies. Thoroughly research campus security rates as a criteria in selecting a college.
*Safety tips taken from StreetSafe.com, Gustavus Adolphus College and Randolph-Macon College.
https://www.americanalarm.com/wp-content/uploads/2022/12/American-Alarm_logo_1Xr.png
0
0
American Alarm Blogging Team
https://www.americanalarm.com/wp-content/uploads/2022/12/American-Alarm_logo_1Xr.png
American Alarm Blogging Team
2012-09-19 15:17:47
2012-09-19 15:17:47
9 Tips to Keep College Kids Safe on Campus