7 Tips to Keep Your Pets Cool this Summer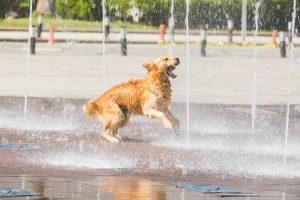 Summer is here and that means we've packed away our heavy coats for the season. However, our four-legged friends aren't so lucky. They can't just shed their fur to beat the heat.
Although being covered in fur helps dogs and cats survive cold New England winters, being covered by fur makes it tough for them to manage the dog days of summer, according to Douglas Aspros, DVM and president of the American Veterinary Medical Association.
"Both dogs and cats dissipate heat by panting [and] as they get overheated, they pant more quickly trying to maintain a safe internal temperature," according to Aspros.
Here are five tips to help your furry family members stay cool this summer:
Keep your pets in cool, shady areas when they're outside. If your pets have short, light-colored or white coats (and ears), avoid direct sunlight. It's also best to keep them indoors on really hot days.
Use your home security system's mobile app to remotely adjust the air conditioning to be sure the temperature is at a safe and comfortable level when your pets are home alone.
Be sure your animals have fresh, cool water in large containers. Add ice to the water to keep it cool. Provide numerous sources of water in case they spill one. If your pets are outside, place the containers in the shade. Water alternatives are also great for pets since they replenish electrolytes and taste good, too.
Walk your pets in the early morning or late evening, when it's a little cooler. Hot pavement or asphalt can easily burn your pets' paws. Bring water with you on your walks so they don't dehydrate.
Dog breeds with shorter muzzles/noses have difficulty breathing, so take it easy when you walk them.
Buy a kiddie pool, put it in the shade and fill it with water so your dog can splash around or lie down in it to keep cool.
Your small pets, such as rabbits, guinea pigs and birds, are especially sensitive to heat so you should bring them inside during hot weather. Place their cages out of the direct sunlight – on a cool tile floor is best. Drape their cages with cold, wet towels. Check the towels periodically to make sure that they're still cool and replace them when necessary. If you have ice packs put them in one or two corners of your pets' cages so they can lean against them to keep cool.
However, if you notice that your pets are in distress take them to your vet or local emergency animal clinic immediately.
NEXT STEPS:
https://www.americanalarm.com/wp-content/uploads/2022/12/American-Alarm_logo_1Xr.png
0
0
American Alarm Blogging Team
https://www.americanalarm.com/wp-content/uploads/2022/12/American-Alarm_logo_1Xr.png
American Alarm Blogging Team
2017-07-26 14:28:46
2017-07-26 14:28:46
7 Tips to Keep Your Pets Cool this Summer